Greta's Corner: _
Greta laments lack of action on climate
January 21: Speaking at World Economic Forum in Davos, young Swedish activist Greta Thunberg berates world leaders for doing "basically nothing" to reduce carbon emissions. (CNN)
---
Greta delivers blistering words at UN Climate Action Summit
Teenage Swedish activist has become the fearless face and voice of demands for real action on climate crisis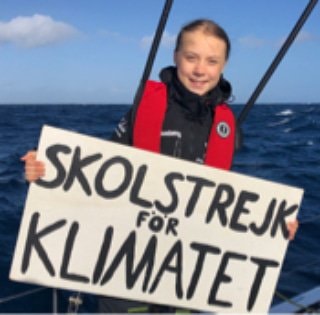 (Sept. 23, 2019) As the UN Climate Action Summit opened at United Nations headquarters in New York, a string of activists and government leaders were expected to participate. Some would speak; others listen. President Trump, having pulled the U.S. out of the Paris Climate Accord early in his administration, was not among them (though he made a surprise appearance at the event, staying for less than 15 minutes).

Critics and cynics had to wonder whether any genuine action might result. Based upon lack of progress following other summits, their concern is valid.

Rather than a respected academic or renowned environmental expert, the main attraction – as anticipated by many – was a 16-year-old climate activist from Sweden. Earlier in the summer, Greta Thunberg had sailed from Europe to the U.S. on an environmentally-friendly racing boat, preparing to speak at the UN and other venues. Over a period of months, she had become arguably the best-known advocate in the world for serious and immediate action against the fast-growing destruction of the planet.

Three days before the Summit, some 4 million protesters worldwide, mostly youthful, marched to demand action by legislators and corporate leaders. Journalists and TV newspersons focused pointedly on Ms. Thunberg, acknowledging her rapid rise in the public mind as a tireless advocate whose words sting with common sense and respect for science, rather than more platitudes.

She may be tiny in stature, but her words can be fiery. Ms. Thunberg set a forcefully direct tone right at the beginning. "This is wrong," she declared, advising that she shouldn't have to be in this position at all. She should be in school "across the ocean." But because the climate crisis is so urgent, and not nearly enough is being done by "the adults," she feels compelled to insist upon genuine action.

'We are in the beginning of a mass extinction," she warned, "and all you can talk about is money.... How dare you."

Since the emergence of Ms. Thunberg as a powerful "voice" of the world's youth, many of whom are dismayed by lack of progress in dealing with climate change, other young activists have been spotlighted.

UPDATE (November 2): Ms. Thunberg appeared to be absent from news coverage during October, but emerged on November 2, speaking at a climate-change rally in Los Angeles. She was expected to appear later in the fall at a summit in Chile, but that event has been cancelled.

UPDATE (November 13): Following cancellation of the climate summit scheduled for Chile, moving the location to Madrid, Greta made arrangements to return to Europe on a 48-foot sailing catamaran. She will be accompanied by the couple who own the sailing craft, their toddler, and a British professional sailor. Ms. Thunberg hopes to reach Spain in time to attend and speak at the summit, on December 2. (CBS News)

UPDATE (December 3:) Greta has arrived inLisbon, enroute to Madrid for the Climate Summit, having crossed the Atlantic by sailbing catamaran. "People are underestimating the force of angry kids," she warned.

MADRID UPDATE (December 6): Speaking at the COP25 climate summit, Greta chided world leaders for doing so little to address climate change. "The climate crisis is still being ignored by those in power," she advised, "and we cannot go on like this.... The CPO25 is not something we should just look past and ignore," she added. Every opportunity "to improve the situation we must take." (CNN)

December 11: TIME magazine to name Greta Thunberg its "Person of the Year." (CNN)

December 12: Trump asserts that Greta has serious "anger management" issues, while Brazil's leader calls here a "brat." (CNN)
Mr. Trump, who was once named TIME's "Man of the Year," has often appeared obsessed with the magazine's annual choices. The Trump campaign soon released a "doctored" version of the cover, with Trump's head superimposed on top of Greta's.

May 14: Greta participates in virtual CNN "Town Hall" on coronavirus pandemic, drawing attacks from critics.
---
Greta donates $1.15 million prize to climate-action groups
July 22: Greta appears on Stephen Colbert's Late Show, after winning (Portuguese) Gulbenkian rights award. She pledged to donate the entire award money (one million Euros) to groups "working to protect ahd environment and halt climate change," The Guardian reported.
---
Further updates on Greta's activities will be added as information becomes available.


---
---
\