Work In Books and Movies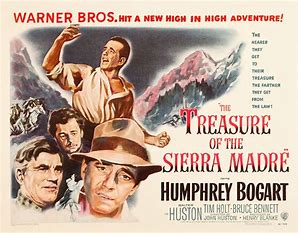 10 Vintage Movies About Work and Labor
Excellent films that accurately reflect worklives in America, whether past or present, aren't all that numerous. The ten titles described below should not be missed by anyone interested in cultural history, as well as the role of work and the value of unionism.

• The Treasure of the Sierra Madre (1948). Classic tale of three down-and-outers seeking gold in 1920s Mexico, played by Humphrey Bogart, Tim Holt, and Walter Huston. Based on novel by B. Traven.

•I'm All Right, Jack (1957). Comedic British look at trade unionism and class structure, featuring Ian Carmichael, Terry-Thomas, and Peter Sellers.

•Wages of Fear (1953). Stuck and broke in unnamed South American country, Yves Montand vies with other desperate characters for job transporting nitroglycerin to oilfield.

•Office Space (1999). Cubicle-based farce deftly captures worklife attitudes of young folks in '90s. Also see Slackers (2002) for an alternate perspective.

•The Misfits (1961). "Anything's better than wages," says Montgromery Clift as he joins friends to try and earn money by capturing wild horses in Nevada.

•Death of a Salesman (1951). Film version of famed play by Arthur Miller, with Frederic March as downtrodden Willie Loman.

•Bachelor Party (1953). Office workers enjoy - or endure - a night on the town to celebrate one's nuptials.

•They Drive By Night (1940). Humphrey Bogart and George Raft face travails of life as independent truckers.

•No Down Payment (1957). Little-known look at life in the fast-growing American suburbs.


Plus Greed (2019), a scathing satirical depiction of extreme wealth and poverty by Michael Wingerbottom, featuring Steve Coogar.
---
Additional examples of films and TV shows that focus infomatively on work will be added periodically.


---
---