White House Woes

The Trump Presidency In News Briefs
(2017-2018)

Now available in PDF form

During the first two years of the Trump presidency, we compiled news items outlining the outrages committed by the Trump administration against American laws, values, and principles. Our chronicle began with Inauguration Day in 2017, running to the end of 2018.

A PDF containing all those items, led by an Introduction, is available now.
Click here to download Trumpnews PDF
You may instead send an e-mail request to jf@tirekick.com.

A PDF version of "Countdown to Trumpland," chronicling the three-week period prior to Inauguration, also is being prepared and will be available shortly.

Reports about protest events and essays on various aspects of the Trump presidency, produced in the early months of 2017, soon after Inauguration, may be seen at White House Woes.

---

---

Greta delivers blistering words at UN Climate Action Summit

Teenage Swedish activist has become the fearless face and voice of demands for real action on climate crisis

(Sept. 23, 2019) As the UN Climate Action Summit opened at United Nations headquarters in New York, a string of activists and government leaders were expected to participate. Some would speak; others listen. President Trump, having pulled the U.S. out of the Paris Climate Accord early in his administration, was not among them (though he made a surprise appearance at the event, staying for less than 15 minutes).

Critics and cynics had to wonder whether any genuine action might result. Based upon lack of progress following other summits, their concern is valid.

Rather than a respected academic or renowned environmental expert, the main attraction – as anticipated by many – was a 16-year-old climate activist from Sweden. Earlier in the summer, Greta Thunberg had sailed from Europe to the U.S. on a racing boat, preparing to speak at the UN and other venues. Over a period of months, she had become arguably the best-known advocate in the world for serious and immediate action against the fast-growing destruction of the planet.

Three days before the Summit, some 4 million protesters worldwide, mostly youthful, marched to demand action by legislators and corporate leaders. Journalists and TV newspersons focused strongly on Ms. Thunberg, acknowledging her rapid rise in the public mind as a tireless advocate whose words sting with common sense and respect for science, rather than more platitudes.

She may be tiny in stature, but her words can be fiery. Ms. Thunberg set a forcefully direct tone right at the beginning. "This is wrong," she declared, advising that she shouldn't have to be in this position at all. She should be in school "across the ocean." But because the climate crisis is so urgent, and not nearly enough is being done by "the adults," she feels compelled to insist upon genuine action.

'We are in the beginning of a mass extinction," she warned, "and all you can talk about is money.... How dare you."

Since the emergence of Ms. Thunberg as a powerful "voice" of the world's youth, many of whom are dismayed by lack of progress in dealing with climate change, other young activists have been spotlighted.

UPDATE (November 2): Ms. Thunberg appeared to be abseht from news coverage during October, but emerged on November 2, speaking at a climate-change rally in Los Angeles. She was expected to appear later in the fall at a summit in Chile, but that event has been cancelled. Updates on Greta's activities in the U.S., and elsewhere in the world, will be added as information becomes available.

UPDATE (November 13): Following cancellation of the climate summit scheduled for Chile, moving the location to Madrid, Greta has made arrangements to return to Europe on a 48-foot sailing catamaran. She will be accompanied by the couple who own the sailing craft, their toddler, and a British professional sailor. Ms. Thunberg hopes to reach Spain in time to attend and speak at the summit. (CBS News)



---

---

VANTAGE POINTS
News/Opinion

Essays and reports on various subjects will be posed in this space.

---




Toil & Trouble

Countdown to Trumpland, our section on the Trump phenomenon and its potential impact on so much of American life, was our main story until Inauguration Day on January 20, 2017. For the next two years, we provided news and commentary on the Trump presidency, in a section called White House Woes. Mr. Trump's candidacy and election led to a crucial urgency among progressives and others who feared a barrage of disastrous decisions from his Administration.

Meanwhile, Tirekicking Today has been developing this section on work, labor, and consumer concerns. Toil & Trouble builds upon the uncommon views in Work Hurts, one of our Books in Progress. In addition to notable news items related to work and labor, this section will feature critical essays and editorials.



---


"No man is good enough to be another man's master."


George Bernard Shaw,
in Major Barbara




---




Work/Labor News Headlines and Victories

Work/Labor news and articles will be updated regularly.
• October 17, 2019: Chicago's public-school teachers go on strike, seeking not only wage increases but more funds for supplies and for hiring ancillary employees.

• October 17, 2019: Striking auto workers' union reaches "deal" with General Motors, but agreement still has to be ratified by the rank-and-file.



---




Work/Labor in Print and On Film

In January 2018, Amazon announced that 20 cities were on the "short list" of possible sites for the company's second headquarters. Each city has offered massive incentives in its quest to attract Amazon, which promised to make some 50,000 jobs available in the winning locale.

Before a final decision was made, residents of those cities might have benefited from reading a vivid description of the working life in an Amazon warehouse, in one chapter of a recent book. Nomadland, by Jessica Bruder, chronicles lives of "houseless" Americans, many of them elderly, who live in vans and RVs, working at seasonal and short-term jobs (including Amazon warehouses) to survive.



Additional Labor news items will be posted periodically. Please check again.


---




"No Human Being Is Illegal"
Sign carried by protester marching in support of "Dreamers" on January 19, 2018




---




The Dunning-Kruger effect: "Ignorance more frequently begets confidence than does knowledge."
Charles Darwin




---




"You know what the weirdest part about having a job is? You have to be there every day, even on the days you don't feel like it."
Jemima Kirke as Jessa Johansson, in episode 4 of the HBO series Girls, created and written by Lena Dunham




---


Labor-related Essays:

• Own Nothing, Owe Nothing

• Surprise! Some of us like to pay taxes
• Reject! For some applicants, job search is futile exercise
• Overview: All too often, Toil Is Trouble
• Needed Now: Jobs, Not Careers
• New Ways To Look at Work
• Solidarity Forever?
• Quit calling us consumers!
• Let's break the chain of consumer debt
• Prioritize! Living with Less and Liking It

Essays above are in the process of updating.
New essays on labor, work, money, and related topics will be added regularly.

---


"He that has to obey the will of another is a slave."


Samuel Fielden (1886)


---


"Success is going from failure to failure with no loss of enthusiasm."


Typically attributed to Winston Churchill, but actual source is uncertain.


---


"I am, somehow, less interested in the weight and convolutions of Einstein's brain than in the near certainty that people of equal talent have lived and died in cotton fields and sweatshops."

Stephen Jay Gould (1941-2002)
Paleontologist, The Panda's Thumb


UPDATED: November 13, 2019

After 23 years of covering cars and the auto industry, Tirekicking Today shifted gears, to focus on social issues and current affairs - led by the unprecedented ramifications of the Trump presidency.
---
Major revisions to the Tirekicking Today site are underway, and will be completed soon. Updating includes the addition of a schedule for new books to be published by TK Press during 2020.
---
Publication of News Briefs on the Trump administration has ended. Two years of News Briefs (January 2017 to December 2018) are available as a PDF file. Please see description of White House Woes at right.
---
November 13: Climate activist Greta Thunberg will cross Atlantic on sailing catamaran, to attend climate summit in Madrid on December 2. (CBS News)
---
TRUMPWORLD EVENTS
Trump comes to Chicago ... Protesters are exuberant, angry, noisy
CHICAGO (Oct. 28) – For the first time since becoming president, Donald Trump flew into the Windy City early on this Monday morning, At noontime, he'd be hosting more than 200 wealthy donors at a fundraising luncheon. Where? At the Trump Tower, of course – his own luxury hotel, located along the Chicago River in downtown Chicago.

Across the river, a throng of protesters was gathering, poised to greet – or more accurately, object to – the president's arrival. Angry chants, unsubtle signs, ironic taunts, and unfettered animosity awaited the leader of the free world, though he was hardly likely to see any of the scathing expressions of displeasure from the boisterous gathering.
---
LATEST TRUMPNEWS
November 13: Televised Trump impeachment hearings begin. Some closed-door hearings also will take place in coming weeks.

October 31: House votes along party lines to formalize path of impeachment inquiry. Every Republican votes no, as do two Democrats.

October Poll: Half of respondents favor removal of Donald Trump from office. Other recent polls find that just over 50 percent support impeachment inquiry ... also, half say Democrats have moved too far left.

October 24: Senator Lindsey Graham and House majority leader Mitch McConnell introduce resolution condemning impeachment inquiry, demanding House vote before proceeding further.

October 23: Some two dozen House Republicans storm into hearing room, where a Deputy Assistant Secretary of Defense was about to testify in a "closed-door" deposition. Some of the GOP protesters, said to be shouting at officials including Democratic Rep. Adam Schiff, belong to committees whose members are permitted to attend the session. (CNN)

October 22: Top U.S. diplomat in Ukraine testifies that Mr. Trump ordered military aid withheld until that country's president publicly announced investigation of candidate Joe Biden and his son. New York Times journalist Peter Baker deems that testimony the most "damning" assertion to date in the House impeachment inquiry.

October 19: After announcing that world leaders attending G7 Summit in June 2020 will meet at his own Doral resort near Miami, Trump retracts that intention, following intense criticism from both Democrats and Republicans.
---
Books in Progress ... and already on sale
TK Press, the book-publishing division of Tirekicking Today, has issued three titles since 2014. Each was written by James M. Flammang, author of more than two dozen previous books.
---
Incompetent: Coming up short in a world of achievement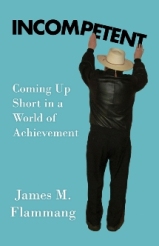 Whether it's sports, business, personal relationships, the arts, or any other area of life, some of us score a flat zero in the skills and talents department. Blending serious concerns with a humorous tone, each chapter covers a specific area of incompetence with which the author, amazingly, is all too personally familiar.

Incompetent is available at: Amazon ... and Barnes and Noble
ISBN (print): 978-0-9911263-2-3 ($10.50)
Excerpts may be seen at Bublish.com.


Mr. Maurice Knows It All ... and tells you so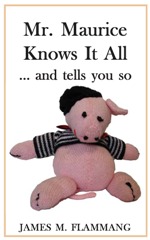 In 78 concise chapters, the debonair yet down-to-earth stuffed pig known as Mr. Maurice–who just happens to know everything–unleashes a torrent of acerbic, humorous, delightfully wise words on subjects ranging work to movies, money to citizenship, from status to guilt. An emigrant from Britain, with obviously French heritage, Mr. M. manages to combine strictly contemporary attitudes and piercing opinions with a gallantry and sophistication reminiscent of the era of Mark Twain and Ambrose Bierce.

Mr. Maurice ... is available at: Barnes & Noble ... and Amazon.
ISBN (print): 978-0-9911263-3-0 ($8.50)

Note: PDF copies of Mr. Maurice ... and Incompetent are available FREE. Just send e-mail to jf@tirekick.com. Please ask about printed copies, signed by the author.


---
2020 Book Publication Schedule

TK Press (a division of Tirekicking Today)
Tirekicking Today editor James M. Flammang, the author of more than thirty books (including six for children), has been working for some time on additional titles. Some are nearing the final stages of pre-production. Each views its subject from an oblique and often lighthearted – yet serious – perspective.

Preliminary outlines and/or unedited excerpts may be seen by clicking on each linked title.

Inquiries from book publishers or agents are welcome. Please send e-mail to JF@tirekick.com.
Fraidy Cat
Surviving a lifetime of unwarranted fear and fright
A personal look backward, focusing on lessons learned about living with debilitating fear and anxiety, including ways to cope and survive.
Untied Knots
Fiction by Flammang
Two groups of short stories, each with a tangy twist. One group is travel-based, taking place largely in Mexico; the other focuses on stay-at-home folks. The collection also includes several stories, previously unpublished, from the author's archive.
Absurdities
Logical Lapses in everyday life and thought
Comprehensive collection of stinging essays gazes with disbelief at dozens of aspects of modern life. Chapters are arranged in sections, including Work, Money, Identity, Communication, Technology, Consumption, Politics and Law, Pastimes, Sex, and Transportation. Work on this book began well before the 2016 election of Donald J. Trump. Therefore, the final chapters will focus on his bizarre, unprecedented presidency.
Work Hurts
Reflections on a wasted life
Questions the conventional wisdom on work and careers. For untold millions, including many with "good" jobs, each day's toil delivers no joy and little reward. In addition to scrutinizing workplace issues in the past, Work Hurts looks at the growing "gig" and "tamp" economy, and its impact on less-than-happy toilers.
Hotel Life
Living small in an age of large
Assesses the satisfactions of simpler living and minimal consumption, while chronicling the joys (and drawbacks) of residing in low-end accommodations. Hotel Life considers such relevant topics as the guaranteed income, shrinkage and change in the labor movement, older suburbanites moving back into the city (or pondering the RV life), and the recent small-house movement.
Steering Toward Oblivion
A caustic look at the history and future of the Car Culture
A caustically critical – but frequently humorous – observation of the car culture and auto business, including the automotive media. Examines automotive history as well as today's (and tomorrow's) cars, emphasizing their impact on daily life, the transportation network, the economy, popular culture, and the environment. Author James Flammang has covered the auto business as a journalist and historian since the 1980s.
Note: Outline will be updated to reflect current conditions.


For further information, please contact us at JF@tirekick.com.


---

• Articles and essays on topics related to current affairs, and occasionally about relevant automotive subjects, will be posted here periodically.





• Editor James M. Flammang contributes to vehicle reviews at NewCarTestDrive.com.


---
---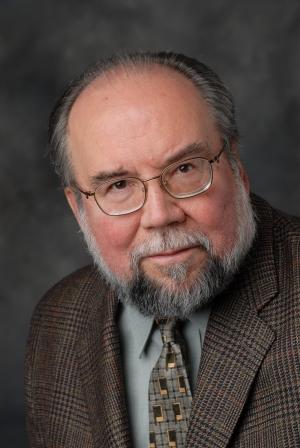 Tirekicking Today editor James M. Flammang, a veteran independent auto journalist, has contributed countless product reviews and feature articles to such publications as autoMedia.com, New Car Test Drive, CarsDirect, and Kelley Blue Book. He has written extensively for a variety of major outlets, including J.D. Power, cars.com, and the Chicago Tribune. Flammang is a member of the Freelancers Union and the International Motor Press Association, and is a past president of the Midwest Automotive Media Association. The author of more than two dozen books, mostly on auto history, also has contributed extensively to Consumer Guide publications and to such trade publications as Ward's Dealer Business. TK Press, established in 2014 as a division of Tirekicking Today, has already published three books by Flammang. Several more titles are well undreway, scheduled for publication in 2020.
---
Countdown to Trumpland
Early January, 2017
Leading Up to Inauguration
---
Delight or Disaster?
Trump presidency signals either his promised return to a "Great" America, or the demise of Constitutional Democracy, with economic tragedy for lower and middle classes.

As the New Year begins, Americans face a political scene that can only be called unprecedented. To about half the voters in November's election, the arrival of Donald Trump as president-elect demonstrated a fresh start for the country. To the other half, seeing this willfully ignorant, ill-behaved, flagrantly self-absorbed bully prepare to take the reins of government – despite fierce distaste for so many of the principles and values upon which this nation was founded – is an occasion for dread, distress, and abject hopelessness....

Click here for more.
As soon as Donald Trump entered the White House on January 20, 2017, Tirekicking Today halted its section "Countdown to Trumpland." Our follow-up series (at right, above) is titled "White House Woes: The Trump Presidency."
In addition to articles on specific issues that President Trump deals with, we include news items on the latest actions and words emanating from, and about, the Trump Administration.
A PDF version of "Countdown to Trumpland" will be available shortly.


---

News Headlines
in the Auto World
• July 10: Final Volkswagen Beetle is produced at Puebla, Mexico. To see Tirekicking Today's report on a visit to the Puebla plant in 2010, Click Here.
• July 25: Four major automakers reject Trump's emissions rule, making a deal with California.to continue complying with that state's tighter standards. Ford, Volkswagen, and Honda have agreed. (New York Times)
• July 25: Nissan to cut12,500 jobs ... corporate chief hints at leaving company (New York Times)
• September 4: Ford recalls more than 480,000 fulll-size F-150 pickup trucks and SUVs for braking problem.
• September 16: More than 46,000 auto workers go on strike against General Motors, citing cobncessions made by United Auto Workers when GM sought federal bailout more than a decade ago.
• September 18: Trump uses executive order to revoke California's exemption from compliance with federal vehicle emissions standards. Initiated in 1970s, that exemption was renewed regularly, allowing a two-tier system to continue: one standard for California and 11 other states that have chosen to abide by its tougher requirements, and a lighter standard for other states.
October 17: After four-week strike, auto workers's union reaches agreement with General Motors. Workers must ratify the accord before it can take effect.
October 29: Three major automakers support Trump in his battle with California on emissions standards. General Motors, Fiat Chrysler, and Toyota say they will not cooperate with the two-tier system that California is developing. Ford, Honda, and BMW previously announced that they back California's stance, which emerged in defiance of the president's rollback of federal emissions standards for future cars.
---