VANTAGE POINTS
by Tirekicking Today
News/Opinion
March For Our Lives protests draw millions of gun-control advocates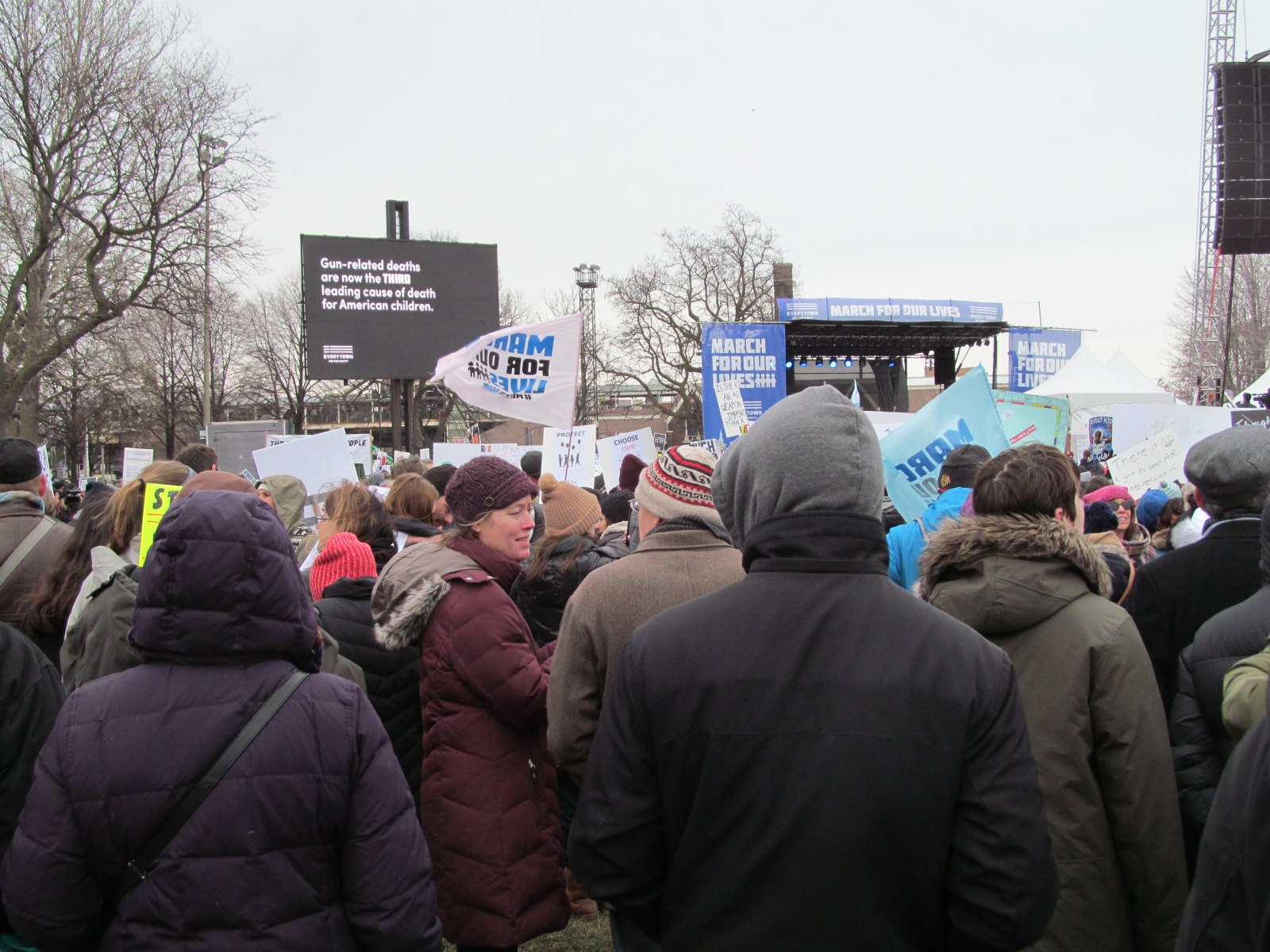 CHICAGO (March 24) – Anyone who thinks teenagers cannot accomplish what their elders failed to do should have been in the crowd at one of the "March For Our Lives" protests, held around the country on Saturday, March 24.
Chicago's March began at Union Park, a mile and a half west of the city's downtown Loop. A few decades ago, this was one of the rougher parts of the city. Nowadays, the area is largely gentrified, with few vestiges of its impoverished past to be seen anywhere nearby.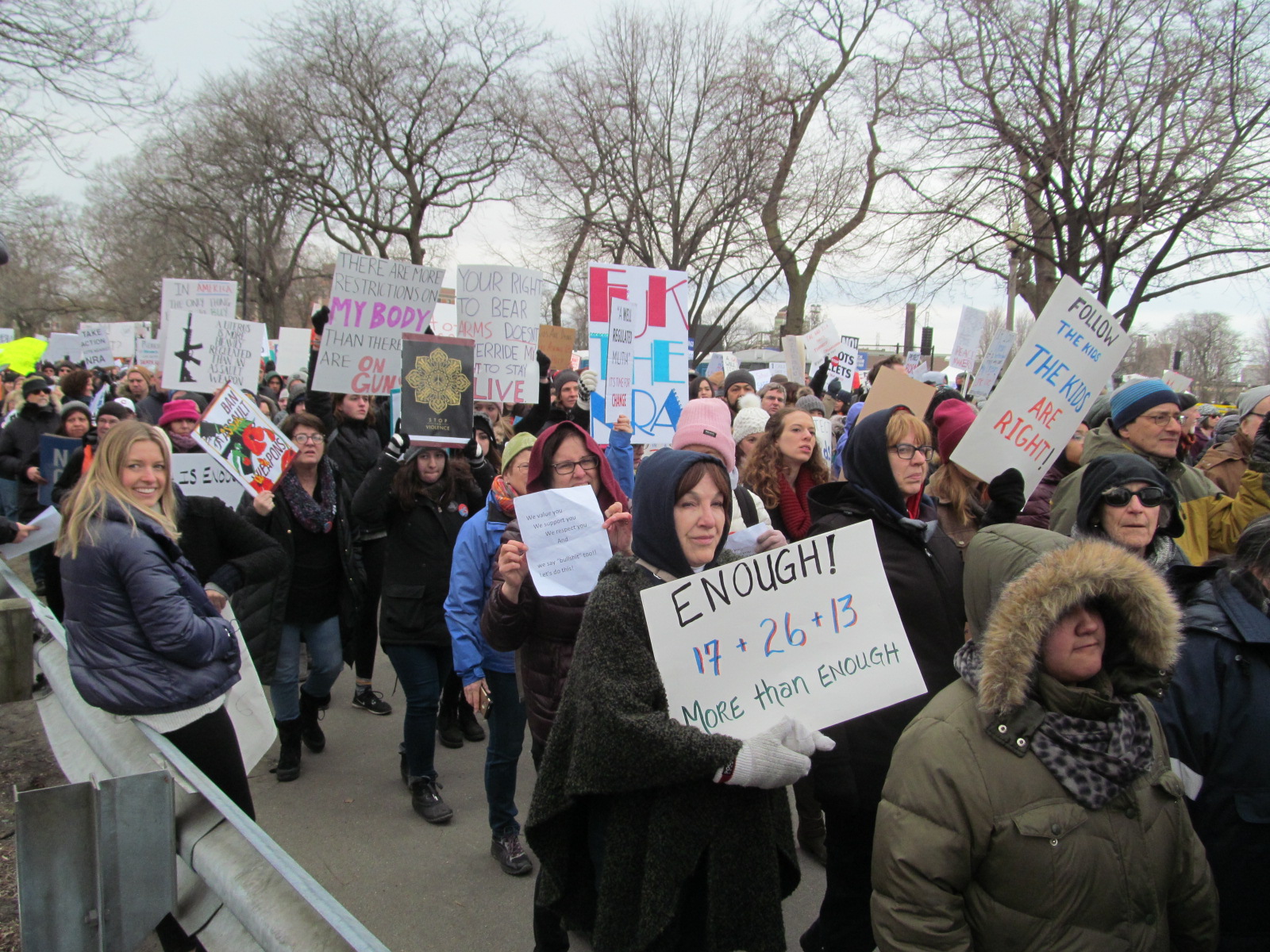 Plenty of protesters were already gathered in the park when we arrived, almost half an hour before the official 11 a.m. start time. Two big video screens sat high, flanking a stage that could not quite be seen from our vantage point toward the side. Easily visible from far back in the crowd, the screens would soon present the images of speakers and performers, interspersed with statistics and facts about gun violence – in Chicago and in the country.
Participants had been encouraged to create and bring along relevant signs. Though numerous, there weren't quite as many as expected. Most of the marchers appeared to be signless, though eager and enthusiastic.
Unlike the protests against the Trump administration that took place in Chicago during 2017, this one focused on a single, emotion-charged issue: the rising epidemic of gun violence, especially in school, sparked by the horrific killing of 14 students and three adults in Parkland, Florida.
Most of the participants were youthful, like the students murdered at Parkland's high school. But there was definitely no shortage of older folks. Some parents even brought their toddlers and infants, knowing this would be a safe event for the family. Plenty of gray-haired men and women were present, likely to have participated in protests since the Vietnam War era, if not before.
As relatively loud, youth-oriented music emerged from the audio system, the crowd continued to grow. When the program finally began, the dual screens showed photos of people who had lost loved ones to gun attacks. Two young organizers gave brief remarks, one of them stating simply that "I'm here to make a change." Essentially, that was the core business of the day.
The format was simple enough, involving as many young folks as feasible without dragging out the rally portion of the program. One young person would step to the microphone to introduce the one who was going to speak or perform next.
About half of the presentations were performances, typically involving some form of poetry. Only young people spoke or performed. No adults at all took the stage, unlike some of the March For Our Lives programs taking place in 800 cities around the world.
On the TV news that evening, for instance, we learned that Illinois Senator Dick Durbin had been present, but he simply marched along with the crowd. No celebrity or political figure was singled out for attention.
The entire program was conducted by the young people – a step that intensified its power. They were the ones mostly responsible for organizing the nationwide event, while welcoming input from some promotion-savvy adults. Joining forces between generations clearly made it possible to arrange events in hundreds of separate places, in a surprisingly short time. Such a task would have been formidable even if all the work had been done by seasoned professionals.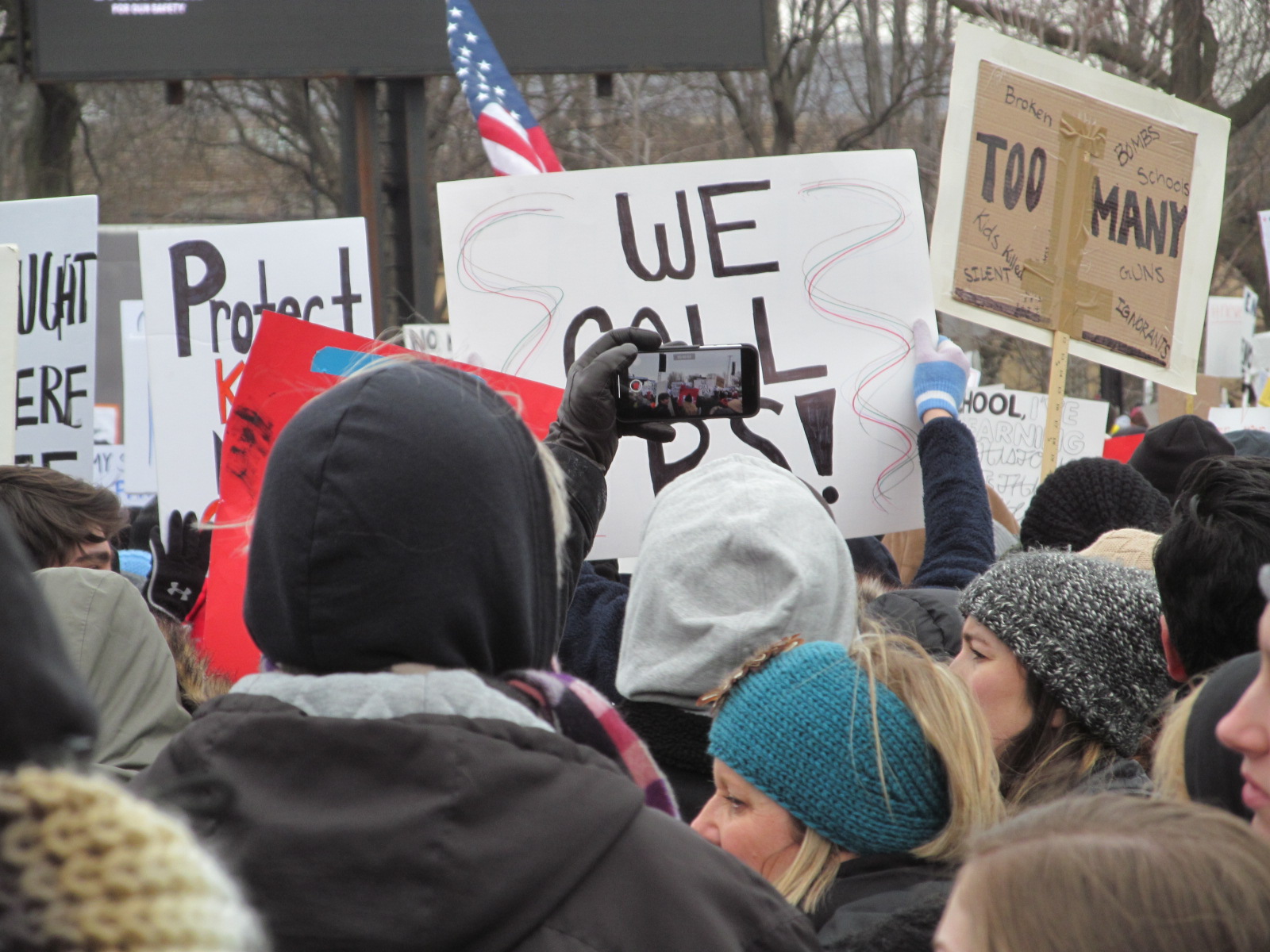 Most performances were impressively well-executed. Several ranked as outstanding. Poems might not have qualified as traditional, academically-approved form; but all were clearly sincere and fully focused on the issue of the day. Namely, the impact of guns in violent acts, whether perpetrated in schoolrooms or any other locale.
Speakers often focused on violence in Chicago-area schools, more than guns in general. Their point was clear: in effect, they "marched for their lives" every single day. Many know only too well that guns are commonplace in their neighborhoods, and they could become victims at any moment.
Several made that point forcefully, noting that they'd personally felt the fear of gun assaults since they were very young. While growing up, gunshots, had been a regular occurrence. Many had learned that someone they knew, or knew of in the area, had been shot and killed or wounded.
Most speakers and performers were high-schoolers, but they ranged from a seventh-grader to undergraduates from the University of Chicago. City high schools represented tended to be highly rated, including Francis Parker (located in the affluent lakefront district); Whitney Young (a "magnet" school two blocks away from the park), and Lane Tech (on the north side, long ranked among the best in Chicago).
Several speakers had become activists long before the Parkland shooting. "Instead of criminalizing black and brown people," said the first young speaker, Chyann McQueen, representing Global Majority Youth Rising, the country should be taking action against poverty.
"I was five when I began noticing gun violence in my community," recalled the next speaker, Eduardo Medel. Like many young protesters gathered for the march, he grew up in a rough part of the city, observing and experiencing a series of violent episodes by the time he reached his mid-teens. "I was twelve," he added, "when I feared the police." Eventually, it was a matter of "becoming accustomed to the evils of the night."
Eduardo highlighted his well-stated speech with simple words: "I feel inspired. Inspired by our generation." He also wanted to "invite everyone ... to participate," not just young folks. "The real problem," he concluded, is simply that "people are dying. Guns affect all of us."
Three male teens, calling themselves Kids Off the Block, stated their views in the form of rapping. Next, a solitary girl began with lovely song, before segueing into a long and painfully heartfelt poetic discourse. Four girls from Hinsdale High, out in the suburbs, delivered their inspirational poem in sequential voices.
Though many protesters carried signs dealing with gun violence, few were directly political in nature. Each of the speeches, too, steered away from mentioning the president or any political organization or position.
By the time the group set off on its eastbound march toward Chicago's Loop, it was evident that huge numbers of teenagers were ready to stand up and be counted. Unlike so many of their elders, in Congress and the White House, as well as ordinary life, they want true actions against the proliferation of guns in questionable hands. Although attendance at the Chicago event fell far short of the estimated 800,000 marchers who turned out in Washington D.C., their intensity and eagerness made up for their less-startling numbers.
Sadly, we learned later in the day of an NRA tweet, decrying young protesters as "violent radicals" and alleging that they are merely puppets of leftists and Hollywood liberals, who are using them to push forward their own agendas. Their claim is sheer nonsense, evident to anyone who participated or simply watched a news report or two on TV.
---
© All contents copyright 2018 by Tirekicking Today
Text and photos by James M. Flammang