White House Woes:
The Trump Presidency
Volume 2
September 2017 Onward
by James M. Flammang
Coverage of protests and related events, accompanied by commentary on the later months of the Trump presidency's first year
---
Editorial
Mexican People Demonstrate Valor, Courage, and Community Spirit in Rescue Efforts After Mexico City's Earthquake
Rather than wait for formal organizers to appear and develop plans to find and rescue people trapped in collapsed buildings, countless ordinary Mexicans rushed to the scenes and took immediate action. Experienced professionals were needed, of course, and arrived swiftly . But meanwhile, impromptu rescuers found ways to help without delay. Many, for instance, formed long lines, working side by side, hand to hand, on such tasks as passing water bottles in and pails of building debris out.
None of these heartening scenes of on-the-spot rescue assistance surprised me a bit. Having spent considerable time in Mexico over the years, I've seen Mexican people react to less-dramatic occurrences in similar ways, simply stepping in – or often as not, running in – to offer help wherever it might be needed.
President Trump may have disparaged Mexicans as "rapists" and "murderers," as part of his anti-immigrant election campaign. Those of us who've observed the admirable behavior and helpful nature of everyday Mexican people, especially in times of strife, know better.
James M. Flammang
Editor, Tirekicking Today


---
Coming Next:
Resist or Recoil What's Next, as Trump's Insults and Threats Escalate to the Danger Point and Beyond


---
News
Protesters March Nationwide for Minimum Wage Hike
Chicago rally draws sizable crowd, led by organizations including "Fight for $15" and the SEIU union.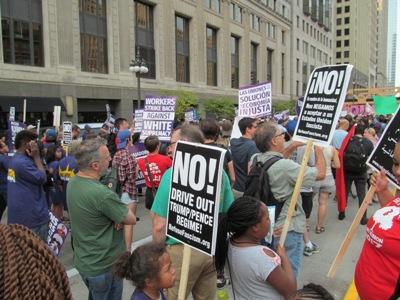 September 4, 2017
Over the past couple of years, across the country, proposals have erupted to boost the minimum wage. If not the federal minimum, which remains at only $7.25 an hour, advocates at least have hoped to induce politicians to put forth a substantially higher local or statewide minimum. Various hourly wage figures have been suggested, but the "Fight for $15" has earned the most attention.
To the amazement of some of us, who have studied the history of wages and salaries and backed a "living wage" well above the federal minimum, quite a number of non-federal government entities have indeed enacted new, substantially higher minimums. Not necessarily as high as that $15 figure, but at some two-digit level beyond $10 an hour.
Labor Day of 2017, then, seemed like the logical occasion for further protests in favor of a higher minimum, preferably on the national level. Rallies stressing the minimum wage took place in a number of cities, including Chicago, whose early-morning event Tirekicking Today covered.
Because we arrived a little late, past the official 9 a.m. starting time, we could hear a speaker's voice from a couple of blocks away. As we neared the event, held at the Thompson Center (State of Illinois building) in downtown Chicago, the crowd looked a bit sparse at first, compared to previous downtown protests: not much past 200.
One group, clustered near the perimeter, wore bright yellow sweatshirts identifying them as part of the "Chicago Coalition for the Homeless." Most of the people seen at first had no such identification, and the number who held protest signs seemed smaller than usual at such rallies.
Most signs promoted unions, which was hardly a surprise since this was a labor-focused gathering. The Service Employees International Union (SEIU), for one, had announced that it would be participating heavily in the Labor Day rally.
Before long, we realized that our initial crowd estimate was an illusion. By the time we'd arrived, participants were already starting to line up, out in the street, in preparation for the march to begin. When we joined the enthusiastic throng on Dearborn Street, our assessment of crowd size grew substantially. After surveying the marchers from a couple of vantage points, we estimated that the total approached a thousand. Organizers later reported to news agencies that about 1,300 people had responded to announcements of the event, saying they intended to attend.
"Instead of supporting the union [movement]," said the woman speaking at the microphone, Illinois governor "Rauner goes to war against union[s]." Musical accompaniment was provided by a recording of Bruce Springsteen's working-class anthem, Born in the USA. Otherwise, during this pre-march period, sounds were sporadic, devoid of further speechmaking.
A young fellow from the Chicago Teachers Union needed no microphone or megaphone to be heard easily throughout the plaza. In full-throated voice, he urged people to respond to a string of queries with the simple words: "Fight Back."
From the makeshift stage up front came the familiar question at protests: "What do we want?" The crowd enthusiastically answered: "Fifteen." Then, "If we don't get it, shut it down." After all, the speaker intoned: "Chicago is a union town."
As participants gravitated toward the street, lining up to march, the chants turned into: "Veto [Governor] Rauner," along with "Veto Trump."
Organizers had announced that the group would be marching less than a mile: to the American Hospital Association on Wacker Drive, at the west end of Chicago's Loop, near the Chicago River. Many of the marchers were employed as health care workers. Half of Wacker Drive, along with smaller streets along the route, had been closed to traffic.
A small stage had been set up at the final stop, where the full rally began. "We need union," cried out one of the women onstage. "So we can have living wages." Kim, wearing a purple shirt like other SEIU members, spoke of organizing the hospital workers. "We're not taking this anymore," she said to the assembled crowd. "We're taking it back."
News reports later announced that some 300 similar protests had taken place around the country on this Labor Day. Though rallies and protests have sometimes focused on specific issues, such as the minimum wage, all are related either directly or indirectly to actions by and expectations for, the Trump administration.
Two days earlier, for instance, a rally calling for continuation of the Deferred Action for Childhood Arrivals (DACA) program had taken place in Chicago, drawing a sizable crowd of immigrants and their supporters. President Trump had announced that a decision on the program would be announced on the following Tuesday. Hundreds of thousands of "Dreamers," young people who'd been brought to the U.S. without "papers," as children, feared they might be deported if President Trump abandoned the program.
Postscript on DACA
Less than 24 hours after the Labor Day marches, Attorney General Jeff Sessions, speaking in Washington DC, announced the imminent demise of the Deferred Action for Childhood Arrivals program. Protest organizers got busy immediately, sending out notices of emergency rallies to try and save DACA, in cities across the country.
Chicago's rally started at 5:30 p.m., just in time to catch some downtown workers who were on their way home. Rallies are expected to take place periodically over the next six months, as March 5, 2018 is the deadline for Congress to take action on saving or modifying DACA. If they fail to do so, the program will officially end, and some 800,000 immigrants will have to leave their jobs and studies, facing the prospect of deportation from the U.S. Many of those deported would be sent back to countries with which they have little or no connection, having been in the U.S. since childhood.


---
Commentary
Crossing the Line
Trump Finally Goes Too Far, 3 Times in 2 Weeks
Those of us who were appalled and sickened by the result of the 2016 election have spent distressing months since Inauguration Day, watching the country descend into the moral and ethical morass of Trumpland. Every morning, many of us wake up and, within minutes, begin our daily survey of the online or TV news, or snatch today's paper from our doorstep, tearing it open with a sensation of dread.
What's he done now? That's the question we have to ask ourselves each morning, often before brushing our teeth or taking the first sips of steaming coffee. What new travesty has Trump or his administration perpetrated upon the country, if not the world.
Trump's base, his millions of fervent supporters, see his antics and verbal assaults with completely different eyes, of course. Crude behavior and harsh, threatening pronouncements that make liberals and progressives feel ill and fear for the future of the nation are cherished, yearned-for music to the ears of the all-in Trumpians. Whether they're working-class whites or well-off Republicans, Trump's utterly uncritical crew of partisans, as seen at his campaign rallies, laughs and cheers and hoots at every blast of fury and loathing that escapes his lips.
Despite the magnitude of some of those careless actions and malignant Tweets, some of which can be – and have been – called cruel by critics, most of us on the not-Trump side have managed to retain at least a touch of perspective. Not all of President Trump's statements and deeds are equal, after all. A few qualify as mere aberrations – deviations from normal presidential or political behavior. They're maddening, raising our blood pressure and compressing our innards; but not quite drastic or dangerous to humanity. Better to concentrate on the truly perilous outbursts: especially, the ones that could result in nuclear annihilation of large slices of the world.
Still, when dealing with any unpleasant or treacherous person, we all have a line that finally has to be crossed before we reach our limit of coping. At least he hasn't done X, we might tell ourselves. We can relax, at least a little, for the moment.
But then, we may suddenly discover that since last night, Mr. Trump has indeed done X. At last, we are compelled to admit, he has crossed the line.
In terms of my own line that must not be breached, Trump leaped past it not once, not twice, but three times in a two-week period, starting in late August:
1. In his initial response to the altercation between white-supremacist marchers and protesters in Charlottesville, Virginia, Trump was vague and ambiguous, blaming "many sides" for the violent episodes that ensued. Two days later, reading a prepared statement in a monotone voice, he adopted a more restrained and conciliatory tone, but one devoid of passion or feeling. A day later, on August 22, he reverted to his original reaction, blaming "both sides" for any violence, while expressing little criticism of the non-Nazis, Ku Klux Klanners, and other white supremacists who had marched while bearing swastikas and chanting racist, anti-Semitic slogans.
2. At the campaign rally in Phoenix, Mr. Trump had kind words for "Sheriff Joe" Arpaio, the former sheriff of Maricopa County, Arizona. Long known for his brutally harsh words toward and treatment of arrested immigrants, including restraining potential deportees in a "tent city" where temperatures could approach 145 degrees, Arpaio had been convicted of contempt of court. Trump chose not to issue a pardon for the former Sheriff during the campaign rally, explaining that he did not want to create "controversy" on that occasion. Four days later, on August 26, he issued a pardon, causing critics to insist that Trump, himself, was expressing contempt for the court and the legal system.
3. On September 3, President Trump stated that on the following Tuesday, he would announce his decision about the future of the Deferred Action for Childhood Arrivals (DACA) program, initiated by former President Obama via Executive Order. When Tuesday morning arrived, Trump was nowhere to be seen. Instead, he'd handed the task of making the announcement that DACA would be revoked to Attorney General Jeff Sessions, who had a long-established record of anti-immigrant views. Rather than accept any responsibility for the fate of some 800,000 young people who'd been brought to the U.S. as children, without "papers," Trump insisted that Congress must take action. He urged the House and Senate to pass a full-fledged law pertaining to the 800,000 "Dreamers," who had been allowed to live, work and study in America. DACA permission had been granted to applicants for two years at a time, subject to renewal. During those periods, the young immigrants were exempted from the risk of deportation.
Making all those Dreamers and their families wait in worry and fear, in a state of limbo, is nearly as reprehensible as setting the actual deportation procedures into motion.
Like so many other horrors enacted by Mr. Trump, these three cannot easily be undone. Too late now. The damage is done. In the case of DACA, for instance, Trump stated that if Congress does not act to put forth a clear law spelling out prospects for the "Dreamers," he will "revisit" the situation. But no one seems to know what he meant by that vow – especially since he is well known for making promises that are forgotten almost immediately.
During this six-month interim period before DACA becomes history, what can be done to help and to ease the minds of Dreamers. Legal assistance? Push Congress harder? Find more sanctuaries? Take them into your homes? Help get them off the grid, living deeper "in the shadows?" Contemplate ways to make their ultimate deportation more humane?
If three instances of crossing the line aren't enough, during this same time frame, Trump engaged in belligerent discourse, primarily via Tweet, with Kim Jong-un. On Sunday, September 3, the North Korean leader had claimed to possess a hydrogen bomb; and in fact, had ordered his military to set off an underground nuclear test, which produced an earthquake that could be felt in South Korea and China, among other countries. As millions of not-Trump voters had feared from the start of the election campaign, the United States was suddenly at risk of nuclear war. Kim Jong-un asserted that his bombs could now reach U.S. soil, and he was prepared to use them.
Unless you're a Trump backer, you probably have your own lines that must not be crossed. Maybe several lines. They probably don't coincide with the list above. But when the time comes to state unequivocally that President Trump has finally "gone too far," we have an awful lot of risky behaviors and blustery pronouncements to consider. Just take a look at our chronology of News Items on the Trump presidency.
---
Click for Volume 1 (January-August 2017)

Click for Trump News Highlights

Back to Tirekicking Today Home Page

Text and photos by James M. Flammang

© All contents copyright 2017 by Tirekicking Today