Clunkers & Creampuffs
Chapter 15: Chromium Fantasies (1955-59)
1955 is an especially transformational year in auto business
as glamour, glitz, and power overrun fuel economy and efficiency
by James M. Flammang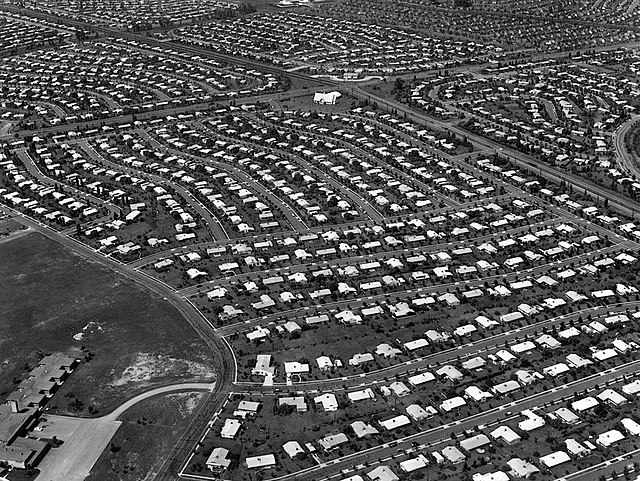 Levittown, PA is considered the first "mass-
produced" suburban development. Car purchases,
new and used, highlighted new way of life
on the installment plan.

By the mid-Fifties, the vision of one (or more) cars in every garage, proposed decades earlier, appeared to be forthcoming. Well, not quite "every" garage. Poor folks were still dismissed by the forecasters.
For unionized workers and the fast-growing middle class, time payments that were "easier" than ever allowed most families to own a new or late-model automobile. What kind of car could that middle-class family get now? Quite a nice one, provided their credit rating was satisfactory to the nation's lenders. Those who were financially unsuccessful might still drive ancient prewar vehicles that qualified as clunkers, but the "creampuff" (a top-quality used car) assumed new importance.
More than any previous season, the 1955 model year demonstrated the swift emergence and forthcoming rise of flamboyant styling, brightly colorful bodies, color-coordinated upholstery, available power assists, and lavish chrome. Before long, variations on the tailfins that had debuted on late 1940s Cadillacs would find their way onto the rear ends of most American makes. Well, second- and third-hand auto buyers, a few years later, could have those very same features.
Suburbia was growing rapidly, sprouting to encircle most major cities and reaching into what had recently been farmland or forest. Along with the move to the suburbs came the "necessity" for a car, even for formerly urban families that had never needed one before. And it had better be a nice one. Maybe not new, but nice.
Status consciousness was rising, too, promoted by plenty of carefully-prepared ads. Your car, they proclaimed, displayed your status in the community to a degree unimaginable before. The automobile sitting in the driveway was an extension of one's personality, not merely a mundane means of transport. Plenty of people proclaimed, whether silently or in words, that bigger is better – and luxurious is best.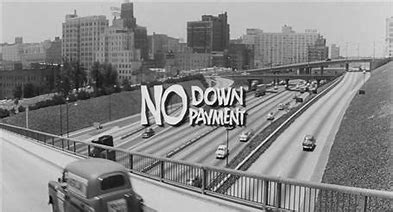 This was the beginning of the Age of Conformity, after all. Even if you didn't crave a sumptuous automobile, your suburban neighbors might just want one for you. The title of a 1957 movie about suburban life could have served as a theme for the entire postwar era: "No Down Payment." Surely, that was the way to enter the new era.
Not everyone agreed that mid-Fifties automobiles were fresh in design or distinctiveness. Editors of periodicals as disparate as Motor and Consumer Reports expressed dismay at the increasing similarities among the various makes, and within family lines. Wraparound windshields, which debuted on Buicks, Cadillacs and Oldsmobiles in 1954, qualified as an example of imitation, not innovation, according to critics.
Not quite all was well, economically speaking, in the Fifties. Steady growth and expansion was marred, at least temporarily, by recessions in 1953-54 and, even more intensively, in 1957-58. Even so, new-car sales set records in 1950 and 1955. In the latter year, a whopping 7.9 million brand-new automobiles went from the assembly line to American homesteads. In 1955, people had five times as many "discretionary dollars" available than they'd had in 1940, and a great many of them were being spent on cars, new and used.
New American cars had quite a broad price range in 1955, from $1,663 for a basic, slow-selling Willys sedan (a model that didn't last long) to nearly $6,300 for a fully loaded Cadillac Eldorado convertible. A stripped-down Plymouth sedan could be purchased for about $1,781, while a Ford Crown Victoria hardtop with sunroof commanded $2,271.
As for the used-car market, a three-year-old 1955 Chevrolet Bel Air V-8 hardtop retailed for about $1,245, according to the Red Book issued by National Market Reports in 1958. When new, it cost about $2,067. That $6,300 Eldorado soft-top could be driven home in 1958 for about $3,510.
Without time payments, car sales would probably never have reached such heights. The magnitude of credit purchases rose steadily into the mid-1950s. By 1955, the traditional 24-month payment period with a substantial down payment was disappearing. Now, buyers expected to part with a minimal down payment, followed by monthly installments as long as 42 months.
Signing installment contracts could bring a young family some of those technological marvels, automotive and otherwise, to be paid for later when incomes would surely be higher yet. Still, some observers were worried about the growing consumer debt. The National Automobile Dealers Association (NADA) warned of "crazy credit terms."
Resistance to credit buying had been fading since the return of WWII veterans. Some of their parents still suffered from what was later dubbed the "Depression mentality": namely, a fear that economic disaster could emerge again. This attitude was still prevalent years later among those who entered their productive years during the 1930s or earlier.
Many, if not most, folks experienced an occasional urge to flaunt their purchases, thereby letting neighbors and strangers alike know how well they were doing. Conspicuous Consumption, many came to realize, could result from ownership of a high-end (and high-priced) used car rather than a cheap new Ford or Chevrolet.
Motivation Research, undertaken by psychologists and marketing experts, grabbed quite a bit of publicity in the 1950s. Studies revealed that people bought cars for emotional rationales and as a means of self-expression, but seldom for their practical transportation value alone. Following scathing exposés of its practices and results by noted social critics and authors, Motivation Research was later discredited somewhat, but many of its findings were almost unarguable.
Ads in the late Fifties stressed styling, body length (more is better), and power, as well as price. To a lesser but increasing degree, they also promoted such less-tangible factors as status, comfort, and luxury. Pastel-colored bodies proliferated, and pictured vehicles often looked even longer than they were in the real world.
Postwar prosperity made it economically feasible for more shoppers each year to drive home either a new or used automobile. A factory worker had to put in 32.8 weeks on the job to pay for a new car in 1949, but only 27.5 weeks in 1957. Average new-car prices rose by 27 percent between 1946 and 1955, but that increase was slower than the growth in manufacturing earnings, and less than the increase in the Consumer Price Index (CPI). In 1956, about one-tenth of total national income was being spent on automobiles.
In 1949, plenty of new cars were selling by more than the posted (advertised) price. Far fewer customers were paying such premiums in 1957. In fact, new cars were frequently selling for considerably less than list price. Dealers had to hustle to keep those sales and profits flowing
Sales of new cars rose by 25 percent between 1949 and 1957, but used-car sales shot upward by a whopping 70 percent. Suburban families were taking greater interest in purchasing a secondhand vehicle as a second car, bringing private transportation to both husband and wife. Teenage children were looking hard at cars for themselves, though use of the family auto would suffice for a while.
By 1954, for the first time, the nation had more cars than households. In 1956, America had about one car for every three people. A 1958 computer study performed at MIT found that the best value proposition was attained by buying a 3-year-old car, then keeping it for 3.5 years.
Station wagons experienced substantial growth, largely based upon their practical merits for suburban families, but also because they got fancier than their more primitive, truck-like ancestors. Wagons would be a significant item on the automotive scenes through the next few decades, until their position on the suburban desirability list was eclipsed by minivans, which first appeared in 1984. Both body styles promised something like the utility of a truck, combined with the beauty of a luxurious car.
Wagons had been around in the 1930s and before, but one all-new body style emerged after World War II: the hardtop convertible. These two-door models had a hard top, all right, but it couldn't be cranked or powered down. Often flaunting two-tone paint schemes to highlight their more rakish appearance, hardtops sought to blend the adventurous, stimulating character of a soft-roof model with the common-sense merits of a sedan or a pillared two-door coupe.
Four-door hardtops appeared later in the Fifties, but never had quite the visual cachet of the two-door versions. Ford developed an actual hardtop coupe, with retractable roof, for 1957, but it lasted only three seasons.
New modes of daily life were appearing in the early 1950s. No one could have realized what their ultimate impact would be, but the Interstate highway system debuted in 1956, as proposed by President Eisenhower. By then, Holiday Inns had been around for several years, initiating the concept of chain lodgings that would change the face of long-distance travel by car.
For those travelers needing a light, simple lunch, McDonald's opened its first 'burger establishment in 1955, in Des Plaines, Illinois. (Visitors to the Chicago area can still see that takeout-only restaurant, but they'll have to go down the street to a contemporary franchise spot to order food – and that hamburger will cost substantially more than the original 15 cents.)
The "horsepower race" that began in 1949 with GM's new OHV (overhead-valve) V-8 engines escalated dramatically later in the Fifties. Chevrolet offered fuel injection in 1957, though its full impact would not be felt for quite a few years. Studebaker could top its V-8 engine with a supercharger.
Over the next few years, automakers began leapfrogging over each other to offer a few more – or a lot more – horsepower than the next company. The battle for ever greater power and muscular performance escalated into the Sixties and early Seventies, before it was hampered by new rules on emissions. Competition in the rapidly-emerging "muscle car" market would soon produce such memorable examples as Dodge and Plymouth Hemi V-8 models, along with the emergence of Ford Mustang and Chevrolet Camaro "ponycars."
During the Fifties, as conformity took hold, a certain stigma attached itself to the "orphan" car – one that came from a manufacturer that had gone under, or appeared likely to falter soon. Negative perceptions also began to apply to any "undesirable" (or excessively old) vehicle, whether in the new or used-car market.
Power accessories became more important. Options and model choices weren't nearly as numerous as they would be a few decades later – or today, when the options list for a new vehicle can be dizzying. At least, used-car buyers didn't have to deal with that issue, other than picking out a prospective purchase that boasted a suitable number of compelling features.
Personal computers wouldn't appear until the 1970s, but the output from huge mainframe systems was beginning to capture public attention. A 1958 computer study at the Massachusetts Institute of Technology (MIT) determined that for the best automotive value, a person should buy a 3-year-old car and hang onto that vehicle until it was 6.5 years old.
The auto sales boom of 1955 led into mass marketing of countless other products. Despite its excesses, expanded use of credit made the sought-after lifestyles of subsequent decades possible. Cash on the barrelhead at auto dealerships was disappearing fast.
By the mid-1950s, various dubious sales methods that developed soon after WWII were reaching new peaks of finesse. Ingenious practices were devised by unscrupulous dealers, inducing shoppers to reach for their wallets; or more accurately, for a fountain pen to sign on that dotted line. Some tricks would have delighted old-time confidence men. Totally honest dealers had to compete against others who made use of balloon notes, highballing, and other insidious techniques.
See next chapter for much more on deceitful sales practices and the tarnished image that affected all auto dealers, including emergence of the "blitz" and the "system."
---
Click here for Overview: Casual History of the Used Car
Click here for Chapter 1: Early Days - Rich Men's Playthings, Poor Men's Dreams
Click here for Chapter 2: Ford's Model T and the Masses
Click here for Chapter 3: Production and Prosperity

Click here for Chapter 4: "Easy" Payments

Click here for Chapter 5: Family Cars and Family Life

Click here for Chapter 6: Five-Dollar Flivvers

Click here for Chapter 7: Rise and Fall of the Used Car

Click here for Chapter 8: Saturation and Salesmanship

Click here for Chapter 9: A Global Blowout

Click here for Chapter 10: Selling in Hard Times

Click here for Chapter 11: Wheels for the Workingman

Click here for Chapter 12: Okies, Nomads, and Jalopies

Click here for Chapter 13: Motoring in Wartime

Click here for Chapter 14: The Postwar Boom

Click here for Chapter 16: Dealers Face Image Problem

Click here for Chapter 17: Wheels for the Fifties Workingman

Click here for Chapter 18: Teens, Rods, and Clunkers

Click here for Chapter 19: Everybody Drives

Click here for Chapter 20: Personal History of Clunker Ownership

© All contents copyright 2022 by Tirekicking Today
Photo Source: Wikimedia Commons