Are EVs finally ready for prime time?
Quick Look at today's electric-vehicle market
by James M. Flammang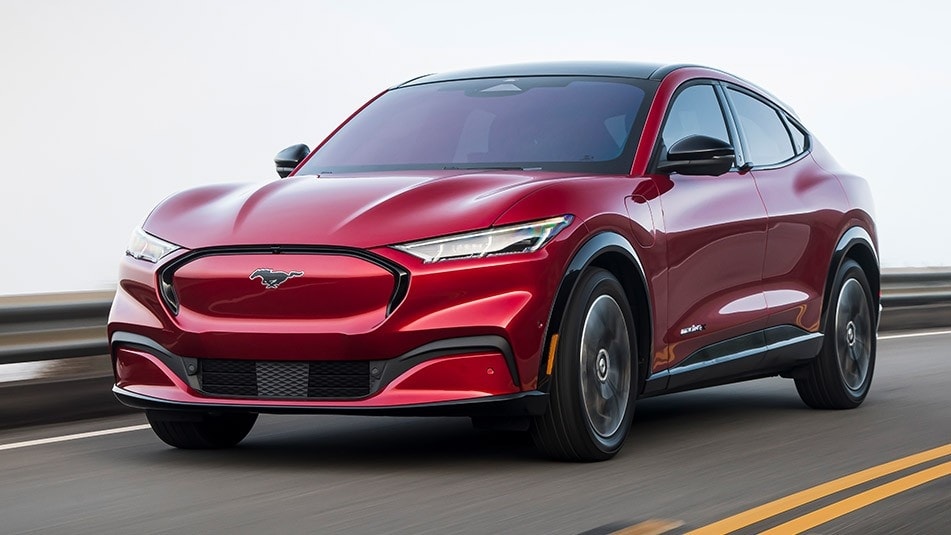 Ford has big plans for new all-electric Mustang Mach-E, a far different
vehicle than the iconic sport coupe that debuted during 1964.
Electric-car fans have been waiting a long time for the breakthrough: for the one model that defies past failures and stands ready to charge fully into an electrified near-future. So far, in modern times, Tesla has been the only contender to demonstrate that level of capability and confidence.
In 2021, though - just as the Covid-19 pandemic finally shows glimmers of light at the far end of its terrible tunnel - the EV world is revealing not just one, but a passel of fresh entrants into battery-powered locomotion. Some of the new brands are unknown to the public, while others have a long history in the automotive world.
Ford, for one, is counting on its recently-announced, electrified F-150 Lightning pickup truck to sell in satisfying numbers. Some observers are even comparing it to the company's Model T (produced in 1908-27), which is considered the car that put America on wheels. GM, meanwhile, has announced that it intends to produce nothing other than electric vehicles by 2035.
Ford has tiptoed into EVs before, with such low-production models as the compact Ranger EV pickup (1998-2002) and Focus EV hatchback (2011-18). So has GM, led by its Impact concept, revealed at the 1990 Los Angeles Auto Show. Following up on the Impact, GM produced 800 two-passenger EV1 models, leased to customers in 1996-99.
Electric cars have a longer heritage than many people might think - about as long as the car itself. In the early years of the automobile, around the turn of the twentieth century, battery-powered vehicles rivaled those with gasoline or steam engines. Why? Favored by ladies in particular, electric automobiles were quiet, odorless, vibrationless, and easy to drive.
For a time, it wasn't at all clear that gasoline would win out in the end. Studebaker, initially a wagonmaker, turned to electric cars in 1902, before evolving into a major producer of gasoline-powered automobiles. General Motors built electric trucks as early as 1912 - the year when EV production peaked, before beginning a rapid downward slide.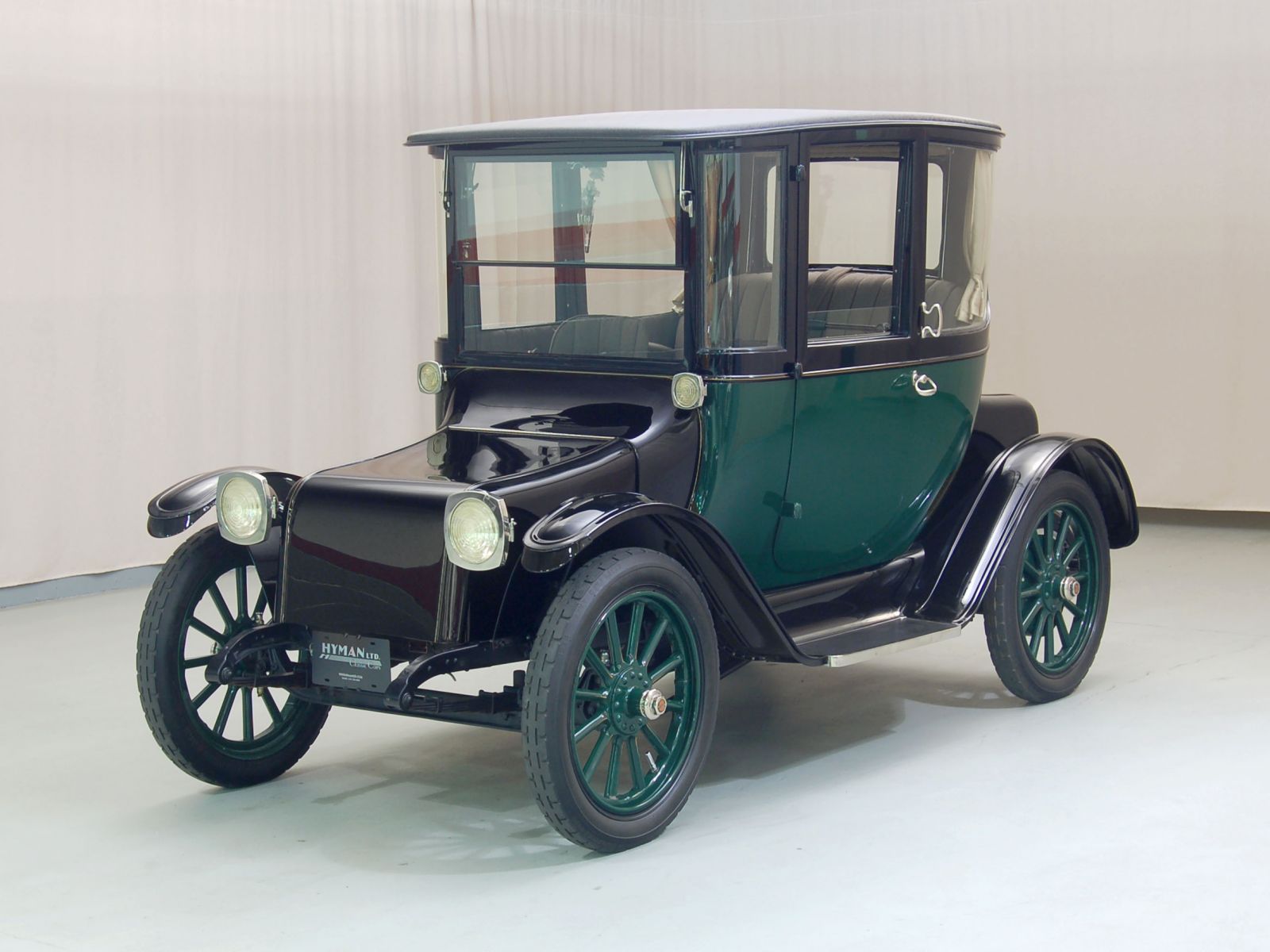 Most of the early electrics - Baker, Babcock, Rausch and Lang, Milburn - faded into history by or during the teens. Just one notable battery-powered brand, the Detroit (left), hung on through the Twenties and even into the Great Depression that struck in 1929. Final Detroits left their factory in 1937.
By the time World War II began, electric cars - as well as other electric conveyances - had largely escaped from the public mind. GM generally earns credit (or more often, blame) for inducing some transit systems (notably in California) to abandon streetcars and electric buses, in favor of diesel-engine buses. Little by little, other municipalities around the country took similar action.
That lack of awareness and interest in battery-powered transport continued through the postwar era, as suburbia emerged and expanded. Expect for an occasional experimental model, reaching few (if any) customers, the battery-powered automobile appeared to be largely dead and gone.
Not until the 1970s, stimulated by the 1973-74 OPEC embargo and inevitable gasoline crisis, did the notion of battery power earn a modest revival - mainly among that enamored handful of enthusiasts, experimenters, and modestly-moneyed entrepreneurs. Several of them developed functional electric vehicles, some of which were produced in quantity and sold to the public.
Most of those hesitant, latter-day electrics had started life as subcompact foreign-brand cars, converted from gasoline to electric power. Among the earliest and best-known was the Henney Kilowatt, converted from a Renault Dauphine. GM unveiled a Corvair-based Elevtrovert II concept in 1966, followed by another concept a decade later, based on the tiny production Chevette.
Particularly notable among the independent EV companies of that era was the Citicar, often derided as a glorified golf cart because of its harshly angular shape as well as its diminutive dimensions. Some 2,300 were made during the 1970s, before it evolved for a while into the Comuta-Car.
Range has long been a primary concern for electric cars. Battery technology hadn't developed as much as hoped by the end of the 20th century. Considering the dearth of compelling interest in EVs between the 1930s and 1980s, that's not exactly surprising. Engineers and scientists who might - or might not - have developed better batteries during that period likely spent their careers working to boost fuel economy of conventional (gasoline-powered) vehicles.
Early in the 21st century, hybrid models took center stage, combining the benefits of electric and gasoline powertrains. Toyota quickly took the lead with its first-generation Prius, paving the way for a slew of near-future hybrid models, which bypassed the obstacle of limited range.
Several automakers launched fully-electric models, but range continued to be an obstacle. Nissan ranked among the best-known, following the debut of its Leaf hatchback as a 2011 model. Initially, the Leaf earned a range estimate from the EPA of just 73 miles in combined (city/highway) driving, and it didn't increase much in subsequent years. Even so, the Leaf appeared to tweak a fair amount of interest in EVs and sold in modest yet significant numbers.
Small cars initially paved the way for EVs in the American market, though few lasted very long. Mitsubishi launched its little i-MiEV in the U.S. as a 2012 model. Fiat begin marketing a battery-powered 500e offshoot of its micro-size coupe for the 2013 model year. So did Honda, with its subcompact Fit, followed in 2017 by a battery version of its Clarity. British-built Mini Coopers have been available with an electric powertrain since 2020. Toyota gave two versions of an electric variant of its RAV4 a stab at the marketplace, finally giving up in 2014.
Until the arrival of the Tesla, under the stewardship of the flamboyant Elon Musk, electric cars continued to suffer from that one seemingly insurmountable problem: limited range. Few could travel much more than a hundred miles (often considerably less) before recharging was needed - which took hours, in sluggish contrast to the few minutes needed to refill an empty gasoline tank. Tesla's first production car, the Roadster, claimed to go 244 miles on a single charge. Since then, estimated range has reached as high as 412 miles. Even the least-thrifty Tesla manages 263 miles.
Tesla has been an example of the impact of forceful promotion under a charismatic leader, coupled with a product that provides what it promises.
Already, a few 21st-century newcomers have disappeared from the EV roster, or appear to be gasping their final breaths, perhaps hoping for a miracle of marketing. Ford dropped its subcompact Focus Electric after 2019. GM discontinued the Spark EV early in 2017. Only a handful of upstart Coda electrics were sold by 2013, and only in California.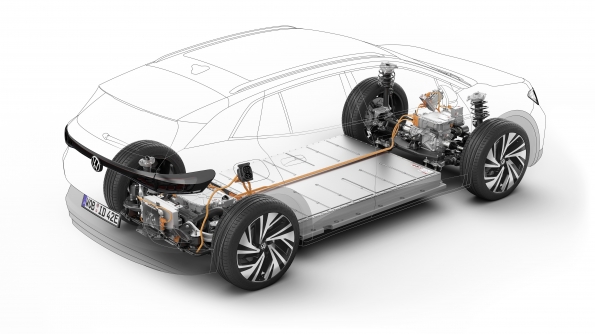 Sluggish sales induced Honda to abandon its battery-operated Clarity in 2020, after doing likewise with the Fit EV back in 2014. Mitsubishi's i-MiEV failed to sell well, disappearing in 2017. Two-passenger electric Smart cars also fell victim to weak sales, finally dropping out in 2020. Also in 2020, Volkswagen replaced its e-Golf with a new ID.4 model (left).
As 2021 began, according to evadoption, 19 distinct battery-powered models were available in the U.S., along with seven EV variants of other models. Audi, Nissan, and Tesla were the only manufacturers with more than one battery-operated vehicle on sale.
Tesla offers four: Model 3 (in three versions), Model Y, Model X, and Model S. Chevrolet's fully-electric Bolt edged aside the hybrid-powertrain Volt in 2017, followed by a re-engineered model for 2022. Early Bolts were recalled for potential fire risk when their batteries were at or near full charge.
Hyundai is launching its Ioniq Electric hatchback, joining the battery-powered Kona SUV. Kia entered the fray in 2019 with a new Niro EV crossover model. Nissan's compact Leaf continues to attract a modest, yet reliable, following. BMW continues to offer its i3, after six years on the market.
Ford's new Mustang Mach-E, bearing no relation to the company's long-familiar sporty Mustang coupe and convertible, reached dealerships as a 2021 model. BMW's Mini continues to issue a battery version of its Cooper SE. Audi has been preparing a new e-tron, in two body styles. Porsche is placing its new Taycan on sale, while Jaguar has introduced the I-PACE. Volvo debuted a battery-powered variant of its XC40 in 2020, while also readying a new, larger XC90 Recharge SUV. Polestar is a brand-new brand in the electric world.
In spring 2021, Subaru introduced a battery-powered Solterra SUV, a joint venture with Toyota, for sale in 2022. "Solterra" combines Spanish words for "sun" and "earth."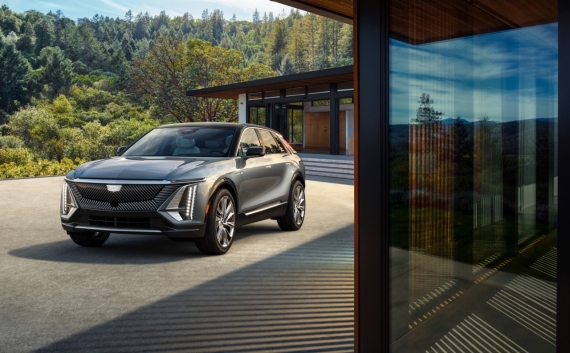 Lucid Air, a brand-new manufacturer, has revealed its luxury sedan, claiming 517-mile range and 0-60 mph acceleration in 2.5 seconds. Unveiling is said to be scheduled for September 2021. Meanwhile, Cadillac is readying an electric Lyriq (right) for production in 2022 as a 2023 model.
Mercedes-Benz is going electric with a variant of its new full-size EQS sedan, billed as a "showpiece of technology." A revived Hummer is in the works, powered this time by batteries, possibly rated as high as 830 horsepower.
No telling which - or how many - never-before-seen EV brands will turn up in the next year or two. Neither can anyone predict which ones have the best chance at success. Possibilities include Bollinger, Rivian, Faraday, Karma, Nikola, Fisker, and Hercules Truck. Already, one new model - meant to be produced at GM's previously-shuttered Lordstown plant - is said to be facing likely failure and closure.
In May 2021, an Autolist survey of 1,800 car shoppers' opinions on EVs was reported by evadoption. Range was now the top consideration, with 61 percent of respondents calling it their "top priority." Price and charging infrastructure came next on the priorities list, followed by recharge time (cited by 36 percent). A sizable 70 percent of respondents declared that at-home charging would be "Essential" if they were to consider buying an EV.
Auto analyst Karl Brauer told Axios that "EV sales, both in the U.S. and globally, are increasing on a percentage basic faster than traditional internal-combustion vehicles."
Meanwhile, Bloomberg has reported that the cost of battery technology continues to fall. In 2019, average cost per kWh (kilowatt-hour - a unit of electricity usage) came to about $157. A year later, the average was down to $137. Bloomberg estimates that by 2023, it will sink near $100.
Based upon the number of new EV models, coupled with marked improvements in range and charging times, the outlook for fully-electric automobiles looks promising. Let's remember, though: they still constitute not much more than 2 percent of total U.S. vehicle sales.
Not enough secondhand EVs have entered the market to make sound judgments about their sales prospects, but trade experts at Used Car Week in late 2020 sounded "bullish" about the prospect.
For the latest information on available full-electric vehicles as well as plug-in hybrids, check the evadoption newsletter (https://evadoption.com).
---
© All contents copyright 2021 by Tirekicking Today
Photo Credits: Ford Motor Company; Lucid Motors