Book Review
Too Much and Never Enough
How My Family Created the World's Most Dangerous Man
by Mary L. Trump, PhD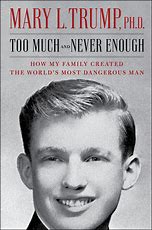 Review by James M. Flammang




Of all the books about Donald J. Trump that have appeared during the past year or so, two stand apart: (1) Bob Woodward's Rage, issued in September; and, published during the summer, (2) the chronicle of the president's early days written by his niece, Mary L. Trump.

Intriguingly titled Too Much. Not Enough, Ms. Trump's book has an even more suggestive and worrisome subtitle: How My Family Created the World's Most Dangerous Man. Clearly, opinions on the validity of those last four words have helped split Americans into two warring camps.

Ms. Trump writes about her uncle from a pair of unique perspectives: close family member and professional observer of aberrant behavior. Her doctorate and work as a clinical psychologist add a piquant, provocative flavor to descriptions of her uncle's troubling behavior and character traits in childhood and adolescence, as well as young adulthood.

As expected by most of its likely readers, not much is totally new. Many of Mary Trump's revelations were already known, or suspected, by anyone who's been following current affairs fairly closely. Few can be considered shocking, after observing Donald Trump's tenure in the White House – plus his previous larger-than-life presence as a Manhattan celebrity and long-time reality-show star.

Nevertheless, her words are valuable, affirming and expanding upon some of our worst suspicions. Or, in the case of Trump backers – few of whom are likely to read such a volume – gives them additional ammunition, as examples of fictitious allegations issued by Democrats and leftists.

Although niece Mary was only personally present in Donald's household periodically, for family events, she has been privy to plenty of relevant tales and comments. Most chapters deal with Donald Trump's early life, long before he made a serious stab at the political world. She unloads a wealth of memories, recollections, and assertions – many, but by no means all, backed by documentation.

Taken together, those anecdotes that help present an emphatic picture of a budding self-absorbed, narcissistic personality.

One powerful figure looms over the upbringing of Donald J. Trump: his father, Fred. Unhapppy with the business acumen of his eldest son, Fred Jr., the family patriarch made Donald his favorite, conveying some potent lessons for success – along with unadmirable parenting skills.

Promoting her book on Steven Colbert's Late Show, Mary Trump explained that Fred the elder could never "admit weakness" or acknowledge "being wrong." Such traits as empathy and warmth were absent in the Trump household. At the family dinner table, Dr. Trump reports, "dehumanization of people" was common. Insults, threats, mockery, belligerence – those were the sorts of trait s that led to success. So was a sense of superiority, encapsulated by Donald's insistence, early in his presidency, that "I alone can fix this."

Donald absorbed his father's lessons early, exhibiting "increasingly crass, irresponsible, despicable behavior and [he] got away with it all."

Well-organized and easy to read, Too Much and Not Enough has inevitably drawn fire, like other "tell-all" tomes. Trump supporters, Republican officials, and right-wing pundits have charged that Ms. Trump had a personal agenda. Specifically, that her book was payback for being omitted from the family will. In September, she sued Trump and his siblings for fraud, in connection with that blocked inheritance.

Weeks after the release of Ms. Trump's book, a batch of surreptitiously recorded audio tapes surfaced, featuring the voice of Donald's sister, Mary Anne, a retired federal judge. At one point, sister Mary Anne compared Donald to the Frankenstein Monster.

Trump partisans might shriek at such a depiction, branding nearly all of Mary Trump and her aunt's words as lies and "fake news." Progressives, as well as mainstream Democrats, are sure to nod "yes" at much of the text and have little trouble seeing the resemblance between the 45th president and the fictional ogre.

Too Much and Never Enough. 225 pages. Copyright 2020. Simon & Schuster.
---
© All contents copyright 2020 by Tirekicking Today