What's Happened to Used Car Prices?
Why did valuations of pre-owned vehicles shoot skyward in early 2021?
by James M. Flammang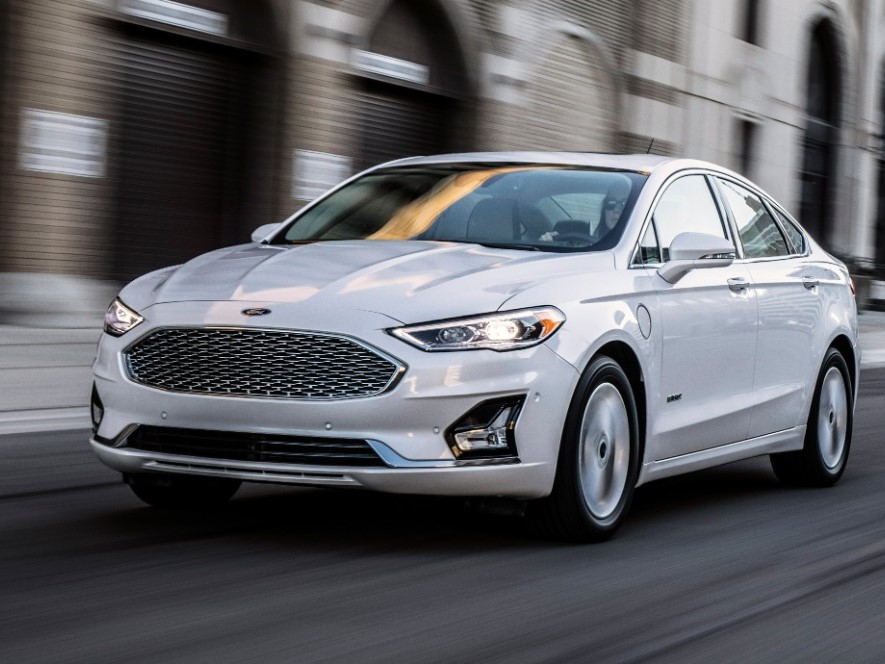 Prices of both new and used vehicles, like this
2020 Ford Fusion, suddenly began to rise sharply,
rather than depreciate in the "normal" way. (Ford)

News stories early in 2021 heralded the easing of Covid cases, inviting re-opening of American cities - and cities around the world. Around the same time, analysts began to warn of skyrocketing car prices, especially for pre-owned vehicles.
Few would have ever expected to see a headline like the one displayed by CNN Business online, on April 23: "Prepare To Pay the Sticker Price." For both new and used models, "car dealer lots have only a fraction of the vehicles that they typically have." That shortage helped "send prices to record levels."
Like other experts, Jeremiah Wheeler of DRN warned a trade audience that a lot of vehicles had actually been appreciating considerably, rather than depreciating as usual. Such a phenomenon was virtually unheard-of in either the new- or the used-car marketplace, historically, except for specialty vehicles in exceptionally high demand.
In a sudden reaction to unexpected alterations in supply/demand, the price structure had gone topsy-turvy. Instead of costing less than they would have a year earlier, or a few months previous, many year-old late-model used cars were approaching - even exceeding - their price when new. More and more, news stories even told of secondhand cars selling for above equivalent MSRP: higher than the retail selling price of a comparable brand-new model.
About half of buyers were paying within 5 percent of "sticker" price (suggested retail), according to JD Power. Some even shelled out more than sticker - a phenomenon virtually unprecedented.
Prices for new cars had recently been setting records, and used cars almost invariably experience comparable increases. "Dealers have raised prices a lot," said Ian Anderson, of Westlake Financial. Speaking with some assurance, he told an audience in April that "I think prices are starting to come down again." Well, not quite yet.
Fluctuating prices - both wholesale and retail - are nothing new, of course. Seasonal changes, in particular, are an integral part of the used-car business, keeping its practitioners guessing and their analysts calculating. Still, this seemingly steady spike in prices seemed bizarre and unpredictable.
Strong sales and limited supply inevitably translate to what some have called a "price boom." That's basic economics: the simple, practically inviolate story of supply-and-demand. The opposite (sinking prices) takes place when sales are weak and supply is strong.
As spring bloomed and summer approached, those analysts who'd predicted an imminent halt to the price spiral appeared to have been proven correct. However, the easing of prices as June edged into July, with August coming soon, was more gradual than some had imagined.
In the first quarter of 2021, the average new vehicle sold at retail for $37,200, according to JD Power statistics. That was an 8.4 percent increase over the same time period in 2020.
Late-model cars were rising substantially in value, with "a lot of price creep here," said Patrick Manz, chief economist for NADA (the National Automobile Dealers Association). At the other end of the price spectrum, dealers "can't get enough of" lower-cost vehicles, Manz added. For some time now, dealers have had a hard time stocking low-end models: those priced below $5,000 or so.
Even some of what Zach Hallowell of Manheim referred to at the Auto Intel Summit as "rough trade" ($3-4,000 cars) have been drawing abnormally high prices. Those are the descendants of the jalopies, clunkers, and beaters that could be found for $50, $100, maybe $200, back in the 1950s and 1960s.
On the other hand, "there are no inexpensive models anymore," declared John Stremel of Equifax, speaking to a trade audience. Even basic models in recent years are filled with technology that was inconceivable a decade or two ago.
Disappearing Incentives and Discounts
Shoppers for new cars had grown accustomed, long ago, to taking advantage of incentives to buy, and substantial discounts off publicized "list" price. Nobody expected to pay "full retail" for a new vehicle, or the equivalent "advertised price" for a pre-owned one.

Not until this past spring, as supplies shrunk rapidly. When supply is low and prices are high, there's no reason for a manufacturer or a dealer to lower prices via incentives to purchase. The same is true of outright discounts off MSRP (retail list prices) for new vehicles.

Analyzing the current "inventory crunch," Patrick Manz, NADA chief economist, noted that average incentives had reached record levels early in 2020, peaking just below $5,000. Now, in spring of 2021, the average stood around $3,500. Furthermore, those incentives were "more targeted at older product" or at less-popular models - the usual method of trying to stimulate sales. Otherwise, incentives and discounts seemed to have outrun their usefulness and weren't needed anymore - at least for the duration.

Was this bizarre situation an aberration? Destined to be short-lived? Almost certainly. But nothing seems absolutely certain anymore, including the previously sacrosanct rules of economics.
Bargaining Unwelcome
As long as supply is constrained, with high selling prices for those cars that do exist, few dealerships or online buying services are likely to welcome bargaining for a lower figure. Sellers and buyers who'd been playing the dickering "game" for decades had to wonder if that element of the automotive marketplace - the dollar-based contest between opponents - was threatened. With the growth of buying services like CarMax and Carvana, too, one-price selling was – and is – poised to become almost the norm one of these days.

The buying experience automatically becomes less intense when you realize that prices are immovable. Still, many, if not most, buyers like to think they've paid less than the next person for a comparable vehicle. The specific dollar price has never been the singular goal of bargaining. It's like the recent TV commercial wherein a suburban couple is ashamed to be seen by neighbors, because they failed to use Carfax to evaluate their purchase and wound up paying what they later perceived as too much.
Is Price Really All That Matters?
Is the march toward an agreed-upon selling price the Number One motivator? Merely suggesting otherwise sounds like economic heresy in modern-day America. And it is. Contrary to conventional wisdom, though, people do buy a particular car (or anything else) for reasons other than its cost alone. After all, paying a bit more for a vehicle that you really covet and expect to enjoy fully is hardly the worst thing in the world, despite any protestation from those who are accustomed to trying to squeeze every last dollar out of an asking price.

As Rachel Richards, from Sonic Automotive, recently reminded a trade audience, car-buying has always been more experience- and emotion-driven than "price-driven." No doubt, some long-time salespersons and auto dealers disagreed with her assessment.
Wholesale vs. Retail
Like any regular dealership, today's online buying services obtain cars at wholesale prices, then sell them for a retail amount, which is (they hope) substantially higher. Selling your car privately might bring in a higher amount, but dealing with potential buyers at your home isn't nearly as appealing as it used to be.

Classified ads have almost disappeared from newspapers, pushed aside largely by online alternatives. Those "Car for Sale" signs that used to dot urban streets and rural byways aren't on many windshields anymore, and are even illegal in some areas.

Average gross profit on used vehicles is "consistently higher than new," according to NADA economist Patrick Manz. For franchised dealerships, which sell both new and used models, the "average new vehicle sole is making no monthe, added Jonathan Smoke (chief economist for Cox Automotive): "Average new vehicle sold is making no money." That's been largely true for a long time. Profits are mainly found elsewhere, especially in a dealership's service department.

Wholesale prices at auction rose by 26 percent between January and April-May, according to JD Power. Retail used-car prices rose only 7 percent during that period, but suggested larger increases in the coming months. Dealers, after all, need to try to get back a suitable amount, if they paid high at wholesale.

CarGurus reports that the average used-car valuation increase over a 90-day period, between April and July, was about 11 percent for sedans and hatchbacks, versus 9.85 percent for SUVs. Vehicles that experienced the greatest increases included some of the most ordinary makes: Chevrolet, Dodge, Ford, Honda, Hyundai, Kia, and Pontiac.

Signs of a slowdown in price increases began to appear in July, but they weren't yet strong enough for even the most meticulous analysts to make trustworthy predictions for the near future.

Of course, most American car-buyers continue to be more concerned about monthly payments, and raising a suitable down payment, than about the total cost of their next vehicle. But that's a subject for another story in the Used Car World.
---
A Few Definitions...
Value: Essentially, the price for which a vehicle (or any commodity) will sell on a given day.
Wholesale Price: The amount paid by a dealer, when purchasing a vehicle for resale later.
Retail Price: The amount paid by a retail customer (the consumer).
MSRP (Manufacturers Suggested Retail Price): The advertised ("list") price for a new vehicle. Retail customers normally expect to get a new model for less - often a lot less, until recently.
"Book" Value: A figure dating from the past, when several organizations published handy, compact guidebooks, packed with average selling prices for used vehicles. Today, such information is most often supplied online, but a handful of people in the trade still prefer the printed version of such publications as the Black Book (compiling wholesale valuations), which are used by dealers.
Profit Gross profit is the difference between the amount paid for a vehicle (typically, by a dealership) and the amount it sells for later. Net profit takes into account all the selling costs, resulting in a lower profit figure.
Incentive: Either a dollar amount or some less-specific benefit, such as a low-interest loan, meant to induce a prospective customer to buy.
Discount: A significant, if arbitrary, amount deducted from MSRP (of a new car) or the "advertised" price (of a used vehicle), intended to stimulate a sale.
---
© All contents copyright 2021 by Tirekicking Today