White House Woes:
The Trump Presidency
January 20 to July 31
by James M. Flammang
Coverage of protests on Inauguration Day and subsequent protests, followed by news from and commentary on the early months of the Trump presidency
Click here for Volume 2 of White House Woes (September 2017 onward)
---
Inauguration Day Protests in Chicago
January 20 and 21, 2017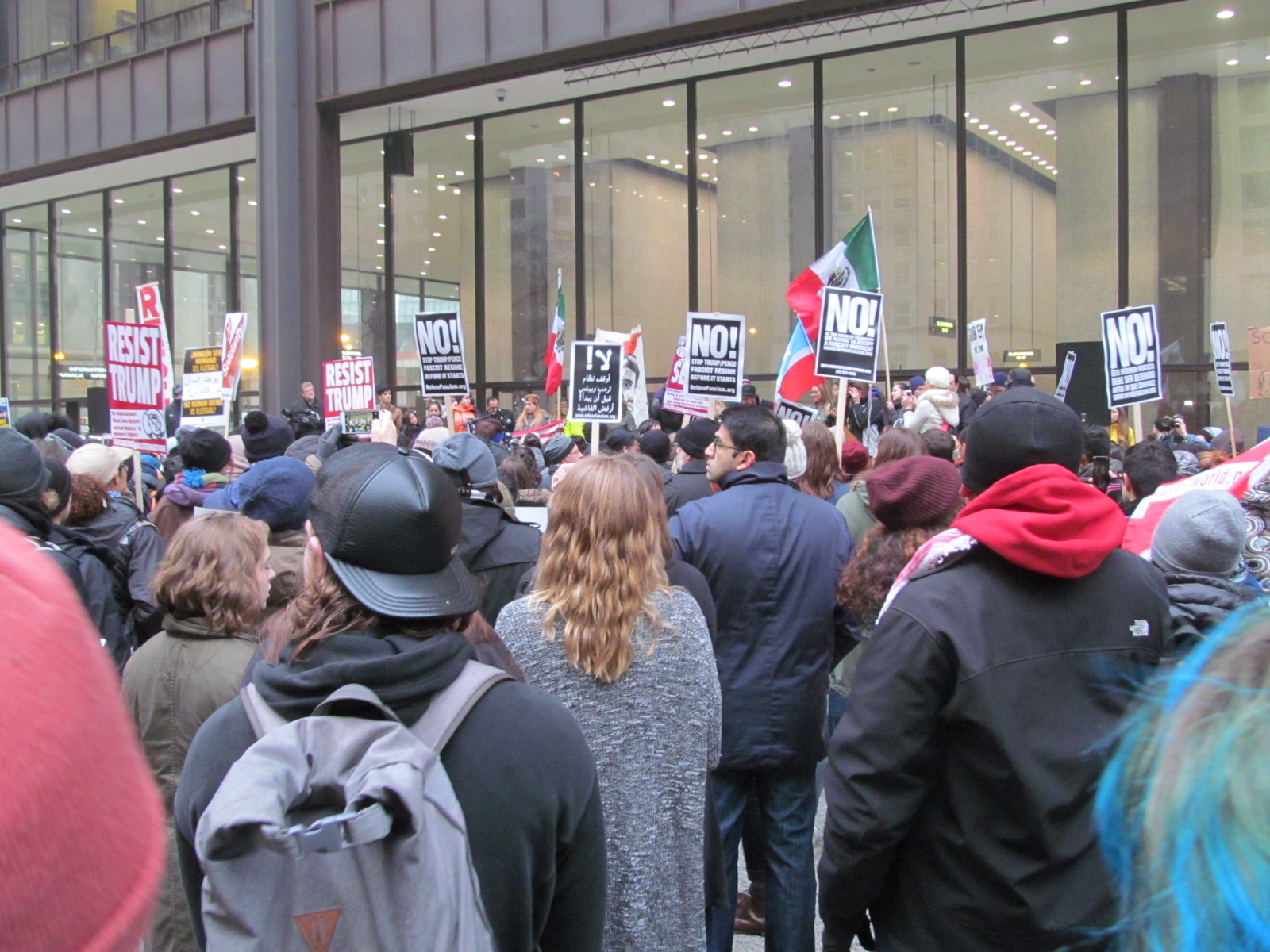 Across the country and elsewhere in the world on Friday, January 20, hundreds of rallies, marches and other protest gatherings took place, expressing staunch opposition to the presidency of Donald J. Trump and to his cabinet members.
Organized and hosted by the Chicago Socialist Alternative and like-minded organizations, "Resist Trump: Occupy Inauguration Chicago" took place in mid-afternoon at Daley Plaza, in Chicago's downtown Loop. A series of speakers, sprinkled with musical groups, almost filled the plaza. Many protesters carried signs, ranging from the familiar and directly-worded to the highly imaginative.
Optimism was the rule, exemplified by an assertion from a youth leader that "we will win this battle." Like so many recent critics of the incoming president, she stressed the necessity of continued protest. "We need to organize," she said, "block by block, city by city."
As has long been typical in protest gatherings, the actual identity of that battle is somewhat vague. Some protesters take a broad approach to opposition, in this case simply targeting the basic concern: the inauguration of President Trump earlier that day. Many, however, have specific agendas: immigration, health care, nuclear proliferation, and so forth.
Logically enough, one speaker – a recent nursing-school graduate – noted that "health care is a right for all residents" of the country. Emphasizing the stark contrast to the incoming national leader, President George Washington was quoted. In his farewell address, Washington warned Americans to "beware the impostors of pretended patriotism." Periodic chants weren't always readily intelligible, but some were most familiar, including "Together we stand. Divided we fall."
Theresa Powers, from the Socialist Alternative, advised that "we are here to say no," adding the almost-universally held theme that Mr. Trump "must be held accountable."
One of the speakers was a familiar name to many Chicagoans: Elvira Arellano, a woman who defied a deportation order in August 2006. Rather than comply, she sought sanctuary within the United Methodist Church in Chicago's heavily-Latino Humboldt Park neighborhood. Ms. Arellano remained inside the church for a year.
Marching in the Dark, Against the Trump Takeover
Soon after the afternoon protest rally ended, a larger event was scheduled to begin at Trump International Hotel & Tower Chicago, just a few blocks away, north of the Chicago River. Instead of a rally, of the sort that has taken place at this location previously, the event quickly turned into a protest march, as participants set foot toward the south, along Wabash Avenue, headed through the downtown Loop.
Chants were loud, and many of the marchers held signs, though it was after 5 p.m. and darkness quickly fell. That didn't dissuade the marchers, who wound up circling the area, passing the starting point later in the evening. Another circuit followed. Though the marching crowd grew smaller with each circuit, the enthusiasm level remained high.
On Saturday, the Women's March on Chicago started its walk from Grant Park, along the city's downtown lakefront. This was one of many women's marches, coinciding with the primary event in Washington D.C. As in other cities, organizers had arranged for buses that could take some participants from Chicago to Washington just for the occasion.


---
Protest: One Month After Inauguration
Sunday, February 19
Loud, enthusiastic crowd of anti-Trump protesters gathers across Chicago River from Trump hotel, ready to march down State Street toward Federal building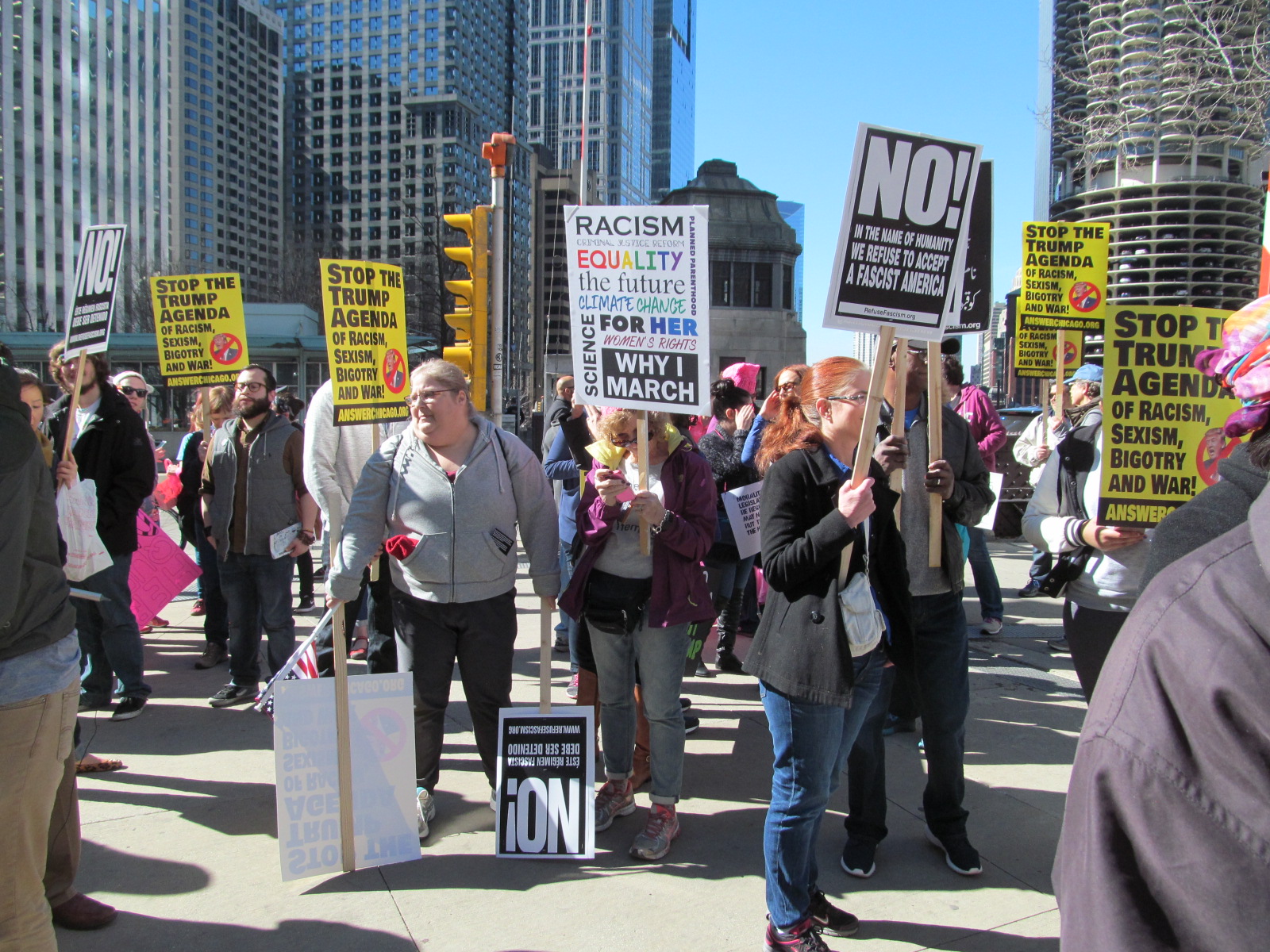 Nearly a month had passed since Donald Trump's inauguration as president. On that date – January 20 – large-scale protests took place across the country. A day later, the Women's March on Washington was bigger yet, matched by similar protests in cities from coast to coast.
Anti-Trump rallies and marches continued to take place during late January and into February. They might have been smaller in attendance, but the level of enthusiasm (and anger) seemed to be escalating. All the more so a week after the Inauguration, when Mr. Trump issued his Executive Order barring travelers from seven Muslim-dominant countries from entering the U.S. Suddenly, the protest movement shifted from downtown streets to the nation's international airports.
Now, in mid-February, as the one-month anniversary of Trump's ascendance to the presidency was approaching, the time seemed right for another series of large-scale protest events. One of them was scheduled for noontime in Chicago, on Sunday, February 19. The theme was simple: "Stop the Trump Agenda."
As protesters began to gather at the northern edge of Chicago's downtown Loop, the crowd initially seemed fairly small – but no less zealous than the evening group at the Windy City's Inauguration Day march. A band billed as "Sousaphones Against Hate" was playing: nearly a dozen musicians, playing horns of various types. Periodically, their choice of music sounded like a dirge, or a death march.
Even more than at early rallies, anger was in the air. Anguish, too. But mainly, unfettered Resistance.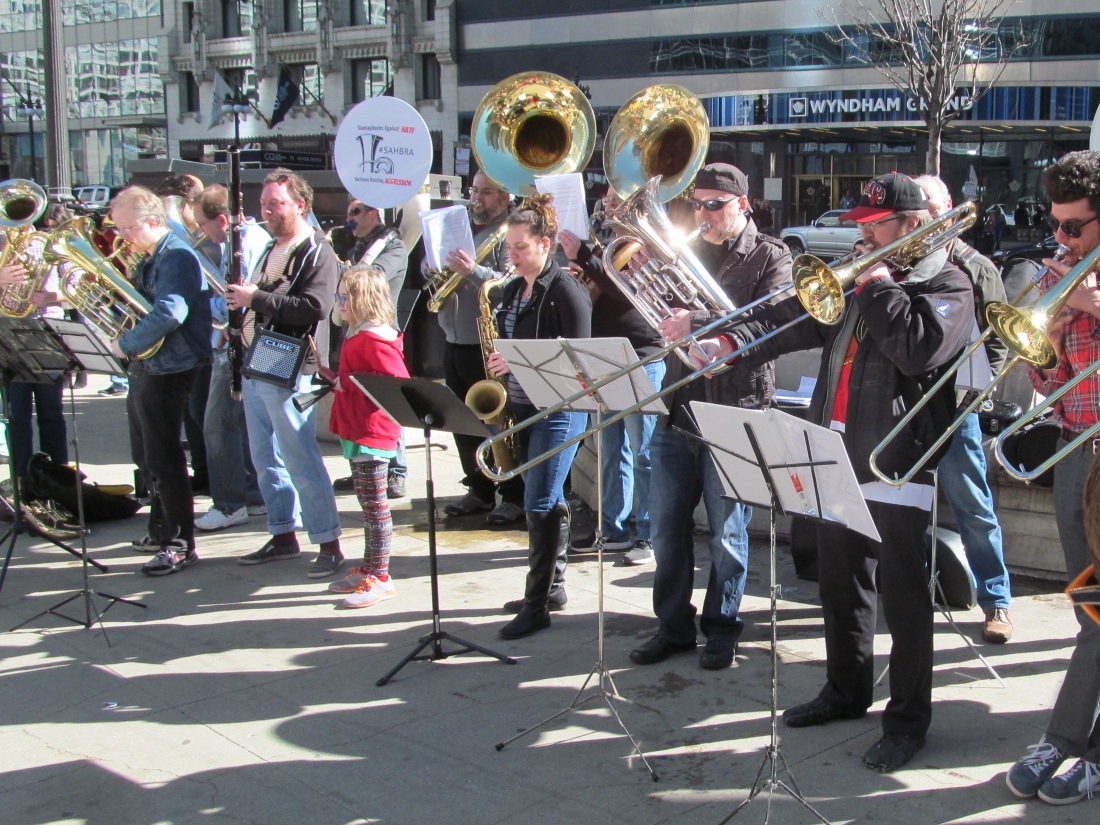 Few protesters, if any, appeared willing to compromise in any way with the Trump administration – an approach that some pundits and analysts continued to recommend. Those who favored undiluted resistance could reflect not only on the number of threatening moves that Mr. Trump had made since that first Executive Order on immigration, but on the ill-formed tactics undertaken to make them effective – and the ultimately cruel results.
"We will keep marching," said one speaker, "we will get stronger ... and we will win."
In addition to a series of speakers at the microphone, impromptu chants erupted sporadically. "Black Lives Matter." "Keep your hands off my body." Some were familiar in form to countless protests in the past: "Hey Hey, Ho Ho, Donald Trump has got to go." At times, the chants and loud speeches almost drowned out each other. "The people, united, will never be defeated."
Rather than a single organizing entity, the protest was a concerted effort by diverse groups of activists, evidently drawing mostly unaffiliated individuals.
"We stand with Muslims and refugees against the Trump regime," declared one speaker, "whenever they're under attack." Let's not forget, said another, "that they built this country."
In the words of another speaker with a microphone: "They want us competing, competing, competing," in order to "divide us. We are going to fight back."
An hour after the program began, participants abruptly began to walk away – not to head home, but to march through the length of the Loop, than back a few blocks to Federal Plaza. By then, the crowd has multiplied many times over.
After marching a few blocks down State Street, we stepped aside for a few seconds to survey the crowd. Making a quick calculation, we estimated that about two thousand protesters were on the march. Some news sources later referred to "hundreds," whereas WGN-TV called it "thousands." Estimates as high as 5,000 turned up after the fact.
Signs and More Signs Tell an Angry Anti-Trump Tale
Protest signs – whether cleverly fresh or familiar from before – clearly express the intense attitudes of anti-Trump marchers. Chicago's event on February 19, brought a sea of carefully-worded signs, each held high. As always, some were professional printed. Some were handwritten. Graphics ranged from clipped-out, touched-up images of Mr. Trump, to hastily drawn renderings of a relevant theme, to professional-level cartoons and caricatures.
Here are just a few of the signs noted at the Chicago rally and march:


"Immigrants Are Welcome Here"
"No Ban, No Wall, No Hate"
"Refugees Welcome, Because God Is Love"
"Love Thy Neighbor. No Exceptions."
"The Biggest Wall We Have Is Misinformation and Ignorance"
"Yo Hablo Español. And I Learned It Thanks to an Immigrant." [held by a young boy]


"Stop the Trump Agenda of Racism, Sexism, Bigotry, and War"
"NO! In the Name of Humanity, We Refuse to Accept a Fascist America"
"Resist Putin's Puppet – Tax Returns Now"
"Pro-America, Anti-Trump"
"How Do You Know When Trump Is Lying? His Mouth Is Moving."
"Stop the Lies. Impeach Trump."


"I March. I Speak For ALL Who Are Unable."
"Stronger Together" [sign held by a young woman who walked using two canes]
"Stop Pretending Your Racism Is Patriotism"


"Resist and Persist"
"History Has Its Eyes On You"
"Wake Up"
"1,431 Days To Go"
"Freedom Is In Peril. Defend It With All Your Might."
"People's Resistance: A+
Trump's Administration: F"


"Union Pussy. See Me Roar."
"Strong Women Scare Weak Men"
"Nevertheless, She (We) Persisted" [a reference to Senator Elizabeth Warren, who'd been silenced while speaking in the Senate]


"They Tried to Bury Us But They Didn't Know We Were Seeds."
"A Real POTUS Doesn't Use Twitter to Address the Nation Like a 13-year-old."
"No One Paid Me To Be Here"
"The Power of the People Is Stronger than the People In Power"
"We Refuse to Surrender Our Freedom"
"Este Regimen Fascista Debe Ser Detenido"


A few signs borrowed opinions from movies and popular culture: "Stupid People Are Dangerous – Katniss Everdeen"


Some could hardly be simpler or more direct:
"RESIST"
"Not My President"

Just one day after the February 19 march, another anti-Trump rally took place in downtown Chicago. Attendance was said to be substantial, but smaller than the Sunday event.


---
Trumpnews
Finally, A Step Too Far?
Donald Trump's ban on entry of visaholders from specified Muslim nations triggers mass protests around the country (Sunday, January 29)
After unleashing a string of Executive Orders initiating a batch of his foremost campaign promises, during the first week of his presidency, Mr. Trump appears to have crossed a hard-and-fast line with the latest stroke of his pen. Rather than specify a grace period of any sort, the Trump order initiated the immigration ban immediately, affecting travelers who were in the air, enroute to a U.S. entry point. Upon arrival, the banned persons were detained and interrogated at airports. Some were sent right back to their home countries, regardless of the dangers they faced there.
As airports teemed with protesters taking the side of those who'd been denied entry – refugees as well as citizens of the named Muslim countries (including holders of U.S. "green cards") – the White House partially eased up on the ban, at least temporarily. Not because Mr. Trump and his allies had a change of heart or heard the growing protests, but because a Federal judge ordered that action.
Protests continued on Sunday, some growing even larger and more emphatic. For now, at least, detainees who held visas authorizing their entry into the U.S. are being released and permitted to go on with their lives within the U.S. Nevertheless, the lifting of the ban is only partial and has a time limit. So, protests seem certain to persist until a more permanent resolution is reached. And beyond, if that resolution simply revives the ban signed by Mr. Trump.
Protest at Chicago's O'Hare airport on Monday afternoon: small, but enthusiastic and effective


On Monday afternoon, eight women protested inside International terminal of Chicago's O'Hare Airport.


On Saturday and Sunday, January 29-30, protesters gathered at airports and other public spaces across the country to express their solidarity with refugees and others arriving from Muslim-dominant countries. Logically enough, protests dwindled on Monday as the workweek began. Nevertheless, ardent protesters weren't ready to back away that easily. Their numbers may have been smaller, but their enthusiasm remained strong.
Early in the afternoon on Monday, eight women stood facing one of the two arrival gates at O'Hare International Airport in Chicago. They brandished signs, they chanted, they smiled. They stood ready to talk about Trump and the Muslim ban – or any other harsh action taken during the previous week – with anyone passing by in the International Terminal.
"No hate, no fear," the women chanted, making their voices heard clearly. "Refugees are welcome here." Another shout-out was especially simple: "Stop the ban."
One participant noted that protesting had become "like my second job."
They expected to see more protesters in this spot after 6:00 p.m. or so. On Sunday, one woman recalled, some of the enthusiastic protesters "didn't want to leave" at all.
The best way to help, she suggested, was to pick up the single issue emanating from the Trump presidency that was most troubling, and concentrate your efforts on that one, especially by calling Congresspersons. In her case, the dominant issue was the imminent revival of the three vast pipeline projects. "One of them is already leaking," she added.
---
News
The People's Filibuster: Chicago Style
Number of protesters might be small, but enthusiasm remains strong
On Saturday, April 1 (yes, April Fool's Day), roughly a hundred activists gathered in the plaza of the downtown Federal building for a protest rally initiated by The People's Defense, and backed by several organizations, including the Demos group. Taking place just before the week of Senate hearings on the nomination of Neil Gorsuch to the U.S. Supreme Court, the event was billed as "The People's Filibuster." (During the following week in Congress, Democrats were expected to consider filibustering, to delay or block the Gorsuch nomination, if the vote fell short of the 60 that would be needed to give the nominee a seat on the Court without further discussion.)
Update: On Thursday, April 6, Republicans voted on the so-called "Nuclear Option," which would change Senate rules to bar filibustering Supreme Court nominees. The rules change passed, making it possible to appoint Mr. Gorsuch to the Court by way of a simple majority.
While participants in the Saturday morning rally waited for the program to begin, an exceptionally loud, unmarked helicopter stood hovering almost directly above the group. Could it be the police? A news organization? Suspicious attendees might even have wondered if the helicopter had been sent to intimidate the protesters and make the planned program impossible. After some painfully noisy minutes, however, the helicopter flew away.
---
News/Commentary
Tax Day March: Chicago Style
Eager crowd rallies and marches in downtown Chicago, demanding that Trump release his tax returns
On Saturday, April 15, more than 100,000 protesters in cities across the nation gathered to insist that the president finally release his tax returns, so they can be scrutinized for evidence of conflicts of interest. The Tax Day March took shape in response to growing allegations that the Trump family and its businesses might be enriching themselves while Donald Trump holds the presidency.
In downtown Chicago, a good-sized crowd filled the plaza that faces the Daley Center building. As the program began, audio speakers issued a few moments of Bob Dylan's "Times They Are A-Changing" serving as an appropriate introduction for a protest against the machinations of the Trump Administration.
Two members of the U.S. House of Representatives were ready to speak: Jan Schakowsky and Mike Quigley. A widely-known progressive political figure, Ms. Schakowsky represents a district including the northwest corner of the city, extending into the suburbs. Mr. Quigley serves as Congressman for an urban district that runs along the lakefront, several miles due north of downtown Chicago.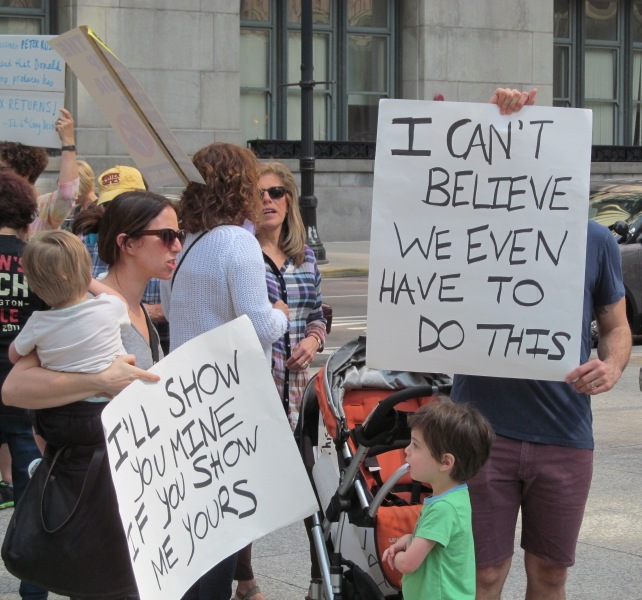 Plenty of protesters carried signs, as at previous events, with slogans that were both familiar and new, including:
"Countdown Has Begun: Impeachment 2017"
"Elect a Clown – Expect a Circus"
"Kellyanne, We Do Care" (referring to Mr. Trump's taxes)
And the long-lived, right-on-point "Liar, Liar, Pants on Fire."
"Transparency" is the focus of today's march, the introductory speaker declared. This is "safe, peaceful, and fun protest today."
To help with the prospect of participants who lose track of their youngsters or colleagues, he also announced the presence of a Lost Person's area, along the march route near the Trump Hotel, a few blocks away from the starting point.
"This is democracy in action," he noted, repeating a theme that had been heard regularly since the anti-Trump protests began on Inauguration Day. "This is our country," he added.
In the wake of Trumpian allegations that protesters are paid to attend these events, the speaker asked for applause for the volunteers who made each rally possible. Protesters were asked to "engage" with legislators in the days and weeks ahead, or to Tweet photos of this Tax Day march directly to President Trump.
Music for the occasion was supplied by a Sousaphone band. Having appeared at a previous event, the band created a sound reminiscent of an old German beer hall, stimulating many of the assembled activists to clap and sway in appreciation.
Congressman Quigley began by quoting former Supreme Court Justice Louis Brandeis: "In politics, sunlight is the best of disinfectants." This "can't be allowed to continue," Quigley added, drawing attention to the recent Trump order to halt the requirement that the sign-in record of visitors to the White House be made public. In Quigley's view, not only should White House visitors sign its logbook, but a similar record should be kept of visitors to Mar-a-Logo, Mr. Trump's Florida resort. Mr. Trump has spent so many weekends at the resort that it's been referred to as the "southern" White House.
"We need to be as transparent and accountable as possible," Quigley concluded.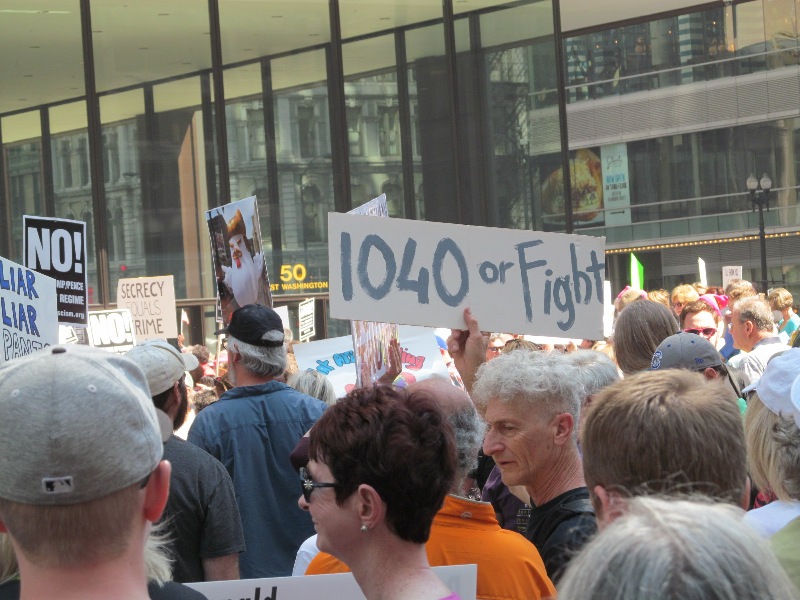 "This is what the Resistance looks like," said the next speaker, Congresswoman Jan Schakowsky. "What is happening outside the Congress is more important than what is happening inside."
Ms. Schakowsky outlined several points to consider:
1. How much money will be going to billionaires in tax relief, while the Administration is killing such helpful programs as Meals on Wheels.
2. How much does Mr. Trump pay in taxes?
3. It's important to let Trump voters know how much their candidate is making off this presidency.
4. Once and for all, what is the financial, personal connection between the Trump team and Russia?
According to a poll in 2016, cited by Ms. Schakowski, most Americans favor raising taxes on the rich, not reducing them.
Speaker three, Illinois state Senator Dan Biss (a gubernatorial candidate), noted that he'd introduced S.B. 982, which would keep Trump off the ballot in the next election unless he releases five years of his tax returns.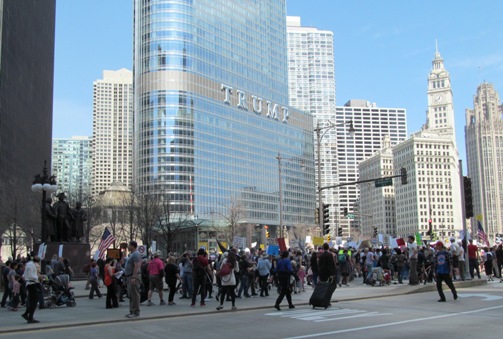 Within seconds of his appearance at the podium, the final speaker, Rev. Jesse Jackson, demonstrated that little, if any, of the "fire" for which his orations have been noted over the decades, has eased. "Keep hope alive," he began. "We are in a perilous situation," as "multiple bombs are dropping." Rev. Jackson warned that "we must be sane enough to choose negotiation over confrontation."
Turning to the issue of undocumented immigrants, Rev. Jackson asserted that Latinos "should be embraced, not deported." Americans need to take "care, not be careless," he added, leading off a string of slowly-stated phrases, pausing between each, which turned into chants by the activist audience.
Quoting the message conveyed by the Statue of Liberty, meant to assure "masses yearning to breath free," Jackson reminded listeners that this meant "bring them here, not leave them there."
Returning to Trump finances, Rev. Jackson noted that "taxation without representation" is just one half of the equation. "Representation with taxation is authoritarianism." Thus, it's essential to "make sure our tax returns are transparent."
Affirming that financial issues are just one element of the concern about Mr. Trump's actions and statements, Rev. Jackson stated unequivocally that "we want health care for every American." In addition, we need to "revive the commitment to climate change," which is under threat by the deniers who serve in the Trump administration.
"Congress, do your job," Jackson concluded as the Sousaphoners turned their attention to a Beatles lyric, Tax Man. Minutes later, the group began to head toward the street, for the short but lively march northward, then along the Chicago River. They halted directly across from the Trump hotel, with its "yuge" T-R-U-M-P lettering forming a permanent boast from the president.

---
As Trump Administration Approaches 6-month Mark, Marchers Protest Against "Trump/Pence Regime"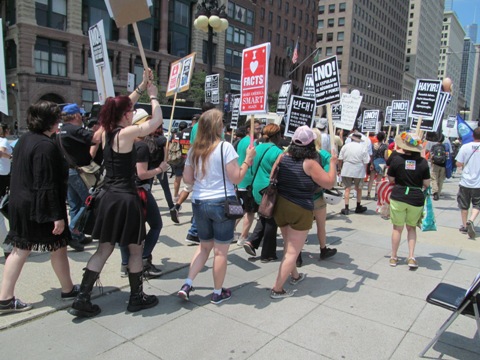 Chicago protest draws relatively light crowd, but participants show intent to remain active
CHICAGO (July 15) - It's not the size of the crowd, but its quality, that counts. Often, that old refrain just happens to be true.
At the edge of Chicago's Grant Park, adjacent to the lakefront, a group of protesters gathered to express their disdain for the Trump administration. At first, the sight of a modest number of attendees seems shrunken indeed, to anyone who's been at any of the larger protests and marches that have taken place since the emergence of Donald Trump onto the political scene.
That evening, local TV news, in its brief piece on the protest, would estimate attendance at fifty. We estimated it at roughly double that figure, once the speeches were finished and marchers were ready to walk off, in the direction of Chicago's Trump Tower hotel.
No doubt, that modest total included a few passersby who just stopped their strolling for a few minutes, to see what was happening
Several protesters appeared in costume, dressed in red with white bonnets like the oppressed women in The Handmaid's Tale, a TV series based upon the dystopian novel by Margaret Atwood. Others wore orange jumpsuits, intended to mimic prisoner garb. One of them also wore a cardboard sign, reading "PRESS."
Speaking for RefuseFascism.org, the principal organizer of the event, Linda Solotaire led a series of chants as the program opened. They repeated a simple refrain:"Trump/Pence must go." Each chanting of that phrase, however, was preceded by mention of a specific issue that's of great concern to protesters, such as "War on women. Hell, no!"
As the chants eased, a Muslim speaker took the microphone, essentially stating the theme of the sponsoring organization: "We refuse to accept the fascist America."
His query was a familiar one from history. "What did we say," he asked, "when they came after the Muslims? The Mexicans? The African-Americans and LGBTs?" His response, aimed at Trump and Pence: "They must go!"
As is often the case at protest events, what begins as a well-focused critical response to a specific person, practice, law, or attitude soon turns into broader focus as speakers bring out their own agendas.
Mark Clements, director of the Campaign to End Torture, did not refer specifically to the Trump/Pence regime. He began by stating that "I am a torture survivor." Recalling race-tinged incidents of the past, such as the case against the Central Park Five in New York City, he noted that today, people still are "gunned down by police with impunity." Such incidents won't disappear, he warned, until everyone recognizes that "black and Latino people are full human beings."
Bishop Gregg Greer, president of Freedom First International, insisted that "America has to change." Otherwise, "we are seeing the mass genocide of many," not just members of black, white, or Latino communities.
Curtis Harris then took the microphone on behalf of disabled people. "Trump is not my president," he began, doubtless echoing the attitude of most of the group. As an autistic person, Harris had been a student in the Chicago Public Schools around 1984. The goal for the disabled, he asserted, is to live in their own homes, ending the warehouse institutionalization that has been the rule for many years, in Chicago and elsewhere.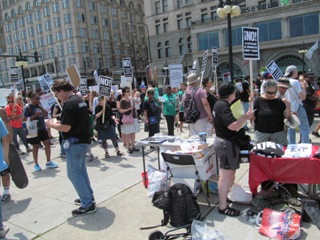 "The monsters are no longer on Maple Street,' cooed the next speaker - actually, a poet. "They are on Pennsylvania Avenue." More specifically, she added: "A great nation will be one when every single person is taken care of."
Engaging in a bit of singing as her contribution to the speechmaking, "Sister" Michael was dressed as a handmaid from the Hulu video version of Margaret Atwood's novel, The Handmaid's Tale. Declaring her identity as an LGBT feminist, she sang that 1960s tunes were for "gentle angry people." Today, those opposed to President Trump are "singing for your lives."
Final speaker was Carl Dix, representing the Revolutionary Communist Party. After refusing to fight in Vietnam, Dix served two years in prison. More recently, he's been a co-initiator of the RefuseFascism group. Recalling an incident in Houston, when Trumpists called upon their supporters to come out with guns, he warned that a "whole new level of struggle" is needed now, in a "nationwide effort." It's vital, he added, to "drive out this regime before it's too late."
Whether calling on speakers who represent a Communist group is wise at this point in the resistance to the Trump/Pence regime is debatable. Experienced protesters may not be bothered by the words or presence of participants from the outer reaches of the political left, but that might not be true of those who are barely dipping their toes into the resistance movement.
As Ms. Solotaire announced that the march would begin momentarily, handmaids and their colleagues in orange prison jumpsuits lined up at the beginning. They were followed by members of what was called the "revolutionary club."
Before departing, protesters were warned to watch out for "slugs and thugs" who might try to provoke them. There are people "who are not yet woke," the organizer added.
---
---
Commentary on Trumpland
---
Commentary
A Dozen Days: Mr. Trump Gets Right Down to Business, Drawing Massive Protests
Immediately after Inauguration on January 20, Mr. Trump began his teardown of President Obama's legacy, threatening abandonment of American values and principles
President Trump's first days in office turned into a shocking and chaotic period for those who decry his scattershot policies and unconventional practices. He'd vowed to begin dismantling the legacy of his predecessor immediately, and did exactly that by initiating the repeal of the Affordable Care Act shortly after taking the Oath of Office. Few expected him to exercise patience and proceed with care. By all indications, he transcended just about everyone's expectations, by far, keeping his pen busy.
A flurry of Executive Orders followed that first step toward Obamacare repeal, through the first week of his presidency. Despite having harshly criticized President Obama for using Executive Orders to bring about change, Mr. Trump appears to have changed his mind about their appropriateness, once he'd picked up his own pen to do likewise.
Backed by Stephen Bannon, his fiery chief strategist, Mr. Trump unleashed a string of what his critics consider to be economic and diplomatic horrors – a roiling sea of potential disasters, whose ultimate impact is far from certain. Exactly one week after Inauguration, he signed what turned out to be the pinnacle of his early actions: authorization of a ban on visa holders from seven Muslim countries, triggering massive protests.
Each of his deeds has reaffirmed that no one can predict what Mr. Trump might do next, or how quickly. Even some prominent Republicans noted that the immigration ban was rammed through in too much of a hurry, without consulting knowledgeable people in relevant government agencies.
Before too long, will the new president have fulfilled all his primary promises to supporters? What about those that were contradictory, evidently changing according to his whim?
Urged on by Mr. Bannon, will the president soon run out of American democratic values to trash and destroy? Will he then grow bored with being president and simply go home, having done vastly more damage to the nation than any of his predecessors?
---
Commentary
Rampant Voter Fraud: Verifiable Fact or Fantastic Fiction?
Hampered by a fantasy of millions of "illegals" voting for Hillary Clinton, Mr. Trump fans the flame of alleged conspiracy at the nation's polling places.
Because he clearly cannot bear the thought of running second to Hillary Clinton in the popular-vote total, Mr. Trump continues to insist that 3 to 5 million illegal votes were cast by non-citizens. Perhaps not coincidentally, actual vote totals show that Mr. Trump lost the popular vote by about 2.9 million.
Furthermore, he has continued to call his electoral-vote victory a "landslide," despite the fact that his winning margin ranks 46th out of 58 American presidential elections, according to a chart assembled by Jugal K. Patel and Wilson Andrews.
Mr. Trump has called for a "major investigation" of the 2016 vote. As reported in The New York Times on January 27, he also tied himself to claims made by Gregg Phillips, described as a "conservative activist" who had "trafficked in conspiracy theories." After the election, Phillips started what he called a voting analysis organization named VoteStand, which, according to the Times, seemed to consist of nothing more than Mr. Phillips' Twitter account.
Several studies analyzing millions of votes, over a lengthy period of years, have determined that virtually no fraud, whether by non-citizen voters or other means, has occurred in elections going back for decades. Though not fully conclusive, these studies have uncovered only a microscopic handful of possible instances of fraudulent, illicit voting in some form. Even those few instances didn't necessarily involve undocumented U.S. residents.
As one activist observed, immigrants without proper "papers" tend to spend each day keeping their heads down, striving not to draw attention to themselves. How likely is it that any appreciable number would willingly seek such attention by registering to vote, and then showing up at the polling place? Being realistic, they would appear to have a lot more crucial matters on their minds than the prospect of participating in an American election.
By the time two weeks of his presidency had passed, Mr. Trump had embarked upon quite a list of promises made to his ardent supporters during the campaign. He's not about to accept any interference. When a federal judge blocked his "Muslim ban" temporarily, for instance, he lashed out, attacking them personally (via Twitter, of course).
---
Commentary
Is There Life After the Inauguration?
Could the ascension of Donald J. Trump to the presidency signal the end of the American era? The end of western civilization? The end of the world?
Answers: Yes, Yes, and Yes.
How could it be otherwise? You don't have to be paranoid to acknowledge that at least some of Mr. Trump's plans and proposals pose unforeseen, unpredictable dangers to the nation and its people; and quite possibly, to the rest of the world as well. After all, our newly-ensconced leader has wondered more than once why America possesses nuclear weapons, yet fails to use them.
Add the fact that Mr. Trump is arguably the thinnest-skinned person ever to seek and attain high office – eager to retaliate via Tweets for slights large or small. Simple logic suggests that the possibility of his choosing the nuclear option as a means of reprisal cannot be dismissed out of hand.
Certainly, such a chain of events might never happen. Or if it does, catastrophe might somehow be averted. But no one can deny the possibility, or predict just how irksome a particular criticism or perceived insult would have to be before the prospect of excessive, instantaneous, no-turning-back reaction by the president rears its head.
Hyperbole? Overreaction? Maybe so. Yet already, we can see that actions taken without consideration of consequence can quickly lead to chaos. Ramming through the immigrant ban for people from certain Muslim-dominant countries is a prime example, brought to life via Executive Order just one week after Mr. Trump's inauguration as president. During the first two weeks, he appears to have initiated action on nearly all of his major promises to supporters. What can we expect to see in the next two weeks? During March? In April, when a major protest is expected to take place on Tax Day (April 15)?
Can those of us who abhor what's happened to our country cope with four more years?
---
Commentary
Numbers, Ratings, and Scores Rule the Trump Presidency
During his first week in office, Mr. Trump appeared to be concerned mainly with the size of his Inaugural crowd and the fantasy that he'd actually won the popular vote, rather than political moves.
It's hardly a secret that his near-obsession with such issues as crowd size and rankings is the result of his insistence on being Number One (never less!) in virtually every endeavor he undertakes. We've all seen that Mr. Trump rarely, if ever, concedes victory to anyone. In fact, any prominent person claiming to be ahead of him in some way, however small, is likely to wind up as a target of the next Tweet, insulted and ridiculed for all to know, virtually instantly .
Largely because of his incessant late-night Tweets, Mr. Trump probably qualifies as the most transparent president ever. While most of us hold back on some aspects of our lives, a big slice of his inner thoughts are transmitted regularly to the world, largely via Twitter rather than more traditional channels.
President Trump continues to insist that his Inauguration drew way more attendees than any previous ones, including either of President Obama's. Unfortunately for Mr. Trump, aerial and other photos revealed quite clearly that in reality, the crowd that arrived to see Mr. Obama in 2013 was roughly three times the size of the Trump event.
In a normal world, that evidence would have settled the question – for those few folks who cared one way or another. To try and bolster his claim, Mr. Trump contacted the head of the National Park Service, requesting him to search for photos of the Inauguration that would show a bigger crowd. No such photos exist, of course.
Ah, but reality doesn't have the same meaning in Trumpland as it does in the actual world, where basic mathematics and authentic photographs can be trusted, not ridiculed.
Looks like he'll never let go of those crowd count and popular vote claims. As several observers have pointed out lately, in this new "alternative facts" world, Mr. Trump's claim that millions of illegal aliens voting for Hillary Clinton almost stole the election from him is the true fact. Therefore, any assertion that she won the popular vote by 2.9 million, and that not a speck of evidence of significant illegal voting of any kind has been unearthed, can be ignored and mocked. The fact that the 2.9-million figure came from people who actually counted the votes has no bearing in this new fact-free world.
Obviously, Mr. Trump cannot bear to think he may have come in second, even once. Finishing anything in a position other than First Place does not appear to have been a factor in his early years. Or at least, his perception of reality invariably let him declare himself Number One. Any claim otherwise has to constitute "fake news."
You don't need to be a psychiatrist or psychologist to realize that no one has ever really been first in everything they've tried. Nor is it normal to proclaim one's far-ahead-of-the-pack results in every endeavor, especially when either hard facts or indisputable logic demonstrate otherwise.
---
Commentary
Could President Trump Be Deposed? Impeached? Removed from Office?
Shortly after the inauguration of Mr. Trump as president, seeing how much consternation he'd caused in just a few days, we began to wonder if there was a provision to remove a clearly unfit person from the highest office. Turns out that others have been making similar inquiries and speculations, largely based upon the 25th Amendment to the Constitution.
Writing for Foreign Policy magazine online, law professor Rosa Brooks outlined three possible ways by which the Trump administration could conceivably be halted:
1. Impeachment. A majority in the U.S. House of Representatives can vote to impeach on the grounds of "treason, bribery, or other high crimes or misdemeanors." Then, if a two-thirds vote in the Senate agrees, the president can be removed from office.
Professor Brooks noted that in a poll taken after just one week of the Trump presidency, one-third of respondents already favored impeachment. However, it's a slow and arduous process, made vastly more difficult by the fact that Republicans control both the House and the Senate. On the other hand, the list of possible reasons to pursue impeachment is so ambiguous that just about any undesirable act might conceivably be considered a "high crime or misdemeanor," at least by some people.
2. Removal via the 25th Amendment. If you're not familiar with the 25th Amendment to the U.S. Constitution, ratified in 1967, you're far from alone. As Professor Brooks points out, it's been an "obscure" Amendment. Until now. To take effect, the Vice President and a majority of top departmental officers could declared a president "unable to discharge the powers and duties of his office."
Removal from office on grounds of unfitness might be a quicker action, but that possibility, too, is hampered by obstacles that seem virtually insurmountable.
What might be the rationale for initiating a removal-from-office procedure? Most likely, it seems, would be a charge that this particular president is incapacitated and unable to perform properly the duties of the presidency, because of disabling mental or psychological problems.
Setting aside Mr. Trump's policy positions and political maneuverings for the moment, we have to wonder if his grand array of delusions, obsessions, paranoia, and other manifestations of mental disturbance could, in themselves, render him unfit for performing the duties of the presidency. Just about any serious observer of the early days of the Trump presidency has probably come up with a list of bizarre behaviors that should not be ignored, and which appear to be impairing the presidency.
Narcissism, self-absorption, grandiosity, impulsive behavior, vengeful reactions to criticism and the like are not necessarily considered disabling mental problems, at least in the legal sense. Paranoia, seeing new and old enemies all around, and taking actions without considering possible consequences just might be. Maybe. Quite a number of behaviors could be argued either way, signaling either non-actionable aberrant or neurotic behavior; or, toward the other end of the spectrum, full-blown psychoses or other serious, disabling maladies.
Of course, when trying to "prove" that any person is mentally ill, you're faced with the likelihood of opposing views from any experts who are called upon to render a diagnosis of sorts. Half a dozen respected members of the psychiatric or psychological profession might declare that yes, the aberrant behavior that can be readily observed are clear evidence of mental problems that may interfere with carrying out the duties of the presidency in a rational way. Shortly thereafter, a different half-dozen experts might assert the exact opposite.
If a similar-behaving Mr. Trump were an impoverished, ordinary citizen and not the presumed leader of the free world, could he be at risk of involuntary hospitalization for mental problems that might cause him to be dangerous to himself or to others? People have been taken into mental institutions for less-startling statements and actions. Should Mr. Trump be subjected to such scrutiny, the dangers he poses apply not to a handful of people and/or himself, but potentially to the entire world.
At this moment in history, more than one dangerous world leader – Duterte in the Philippines, Erdogan in Turkey, Kim Jong-un in North Korea – could easily be declared unfit to serve because of mental issues. Can we ignore the prospect of adding one more to that list?
Ah, but Professor Brooks has noted one more possible way to remove a president from office: 3. Military coup. Or, "refusal by military leaders to refuse certain orders." As Ms. Brooks points out, such a prospect would have been "unthinkable" just a few weeks ago. Let's hope a more acceptable, benign solution comes to light before too many people start thinking about this one.
---
---
Commentary
What To Do, What To Do
Troubled by Trump? Resistance to Trumpism may take several possible forms: Fight, Resist, Quit, or Leave.
Quite a lot can be done to cope with the growth of Trumpland, actually – once you get past the utterly hopeless and helpless feeling that countless progressives and liberals have suffered from since the November election.
Mainly, it's prudent: to do something tangible, rather than just fume and rant every day. Of course, it's hard to avoid ranting when you feel compelled to start each morning by turning to the news and asking, "What's he done now?"
1. Fight.
For many of us, the only possible response to a Trump presidency is to fight it any way you can: to protest, most likely loudly and practically endlessly. Some serious activists turn their anti-Trump activities into a veritable full-time job, or at least something close to that magnitude.
These folks are likely to attend every protest rally and gathering in their area – and often, to travel some distance to participate in even more events. They're the ones who carry signs, who sing out those protest chants, who keep involved with other activists. Most of the ardent fighters appear to work with one or more progressive organizations.
Protest Fatigue: Early in Trump's presidency, their numbers were huge. After a few weeks, protest in many cities began to taper off, which was no surprise.
Inevitably, the initial passion starts to wane. Exhaustion, both physical and mental, sets in. Keeping up the momentum isn't easy, especially when the Trump presidency keeps tossing out more atrocities practically every day. It's tough to maintain one's pace, when bombarded by more and more new reasons to resist, and to protest.
2. Resist.
Resistance is vital, but it doesn't have to be as overwhelming as fighting steadily against the Trumpians.
First and foremost, we're urged to never stop resisting, even if you have to do so more quietly and calmly than the fighting folks mentioned above. We can resist without necessarily maintaining excessive levels of intensity, which might do more personal harm than good.
A few weeks back, filmmaker Michael Moore issued a list of 10 steps that should be taken by those of us who resist the Trump presidency. No doubt, plenty of never-stop activists nodded at some, if not most, of those suggested actions, several of which they were probably already doing. Those of us who are generally less energetic might have felt exhausted simply by glancing through Mr. Moore's list.
Mainly, one way or another, don't ever let Trump and company forget that more than half of the 2016 electorate do not want him anywhere near the White House. They're furious, they're terrified by the hateful, dangerous proposals he makes, the nonsense and threats he utters and, especially, Tweets, day after day. Not to mention the loutish behavior that he continues to display, despite having elevated himself to the highest office in the nation..
You can make a difference without turning anti-Trumpism into a 24/7 career. Individually, and/or in groups, with or without organizational ties and backing.
3. Leave.
Specifically, leave the country. Early on, plenty of us doubtless felt the urge to do so: to get out, rather than endure life under a Trump presidency. Unfortunately, it's not that easy. For many, it's impossible.
During the presidential campaign, a number of celebrities, especially in the entertainment field, expressed an intent to leave the country if Trump wound up winning the presidency. Without question, a coterie of non-celebrities were thinking and/or talking about similar possibilities. That's true of just about every recent presidential election, though it's a safe bet that the numbers were considerably higher in 2016 than usual.
Tempting as turning to an expatriate life might be, a barrier that can be as insurmountable as Mr. Trump's fantasy wall along the Mexican border tends to be overlooked. Mainly, moving to another country for more than a brief visit is a formidable task.
You and your money are quite welcome in most parts or the world, as a tourist, student, or for some other specific, temporary purpose. But moving there permanently? Suddenly, as many a potential expatriate has learned early on, you might discover that foreign countries aren't so enthusiastic about having you as a permanent resident.
Why? To immigration officials and those who set the rules for barring certain persons from entering a country, concerns about criminality and terrorism are far from the only consideration.
Immigrants seeking permanent-resident status, officials fear, might have the audacity to want to work in their new country of residence. Worse yet, they might anticipate making use of that country's health care system.
Only a handful of countries openly encourage immigration by ordinary people, who aren't refugees or fleeing persecution at home. For all the others, potential residents must have either a high-level occupational skill that's in demand, a substantial steady, guaranteed income; a spotless personal history – preferably, all of the above and more.
In other words, you'll be investigated throughly, regarded suspiciously, and fill out countless documents. Add that to the practical difficulties of transporting one's life to a new location, even if you're accepted, and it's a tedious ordeal. Most expats will say it's well worth the effort, but don't expect to see an easy trail ahead as an immigrant to anywhere.
On a personal note, I attempted to start the process of moving to Canada back in the 1970s. But I never got farther than the introductory questionnaire, since my score was nowhere near high enough to meet the bare minimum required for initial consideration. Today, even before Trump's ascendancy and draconian policies on immigrations, it's vastly harder to gain acceptance elsewhere in the world. I have relatives who emigrated to Europe decades ago and never returned to the U.S. It wasn't easy even then; but they'd have a lot harder time making such a move today.
4. Quit.
Yes, it's always possible to give up: to simply accept the fact that Mr. Trump is president and America is well on its way to turning into a corporate theocracy based on fear, hate, ignorance, greed, and utter lack of concern for anybody outside of one's personal circle. Or, to simply declare that Trump "is not my president," mean it, but then turn away.
We can do our best to delete all thoughts of Trump from our minds, encouraging pleasant images to seep in to replace the grim visage of Mr. Trump.
After all, most of us can't really do anything to bring the governmental disaster to a halt. With a mentally unstable person in charge, urged on by complicit Republicans, it's hopeless. So, we may as well go on about our (non-political) business and, whenever possible, look the other way when the latest atrocity is spoken or acted upon. No more waking up each morning and rushing to find out: 1) Is the world still here? and 2) What's he done now?
Underneath, of course, we'll know that Quitting is the weakest response to political dystopia, and that we should probably be ashamed to indulge such intentions. Nevertheless, as Mr. Trump himself proclaimed about developing a replacement for Obamacare: it's hard. Sometimes, resistance is just too taxing, too exhausting, too demoralizing.
When the urge to forgo resistance and spend our evenings staring at the TV, playing video games, or any other lightweight, minimally mental activity, it's fine to step aside. But after a brief respite, why not try to re-enter the fray? Later on, you'll be glad you did. Won't you?
Let's not forget that it's possible to switch back and forth: sometimes fighting avidly, but then receding to steady resistance when anti-Trump action grows overly taxing. We all need a rest now and then, at least briefly, to recharge.
One more possibility: Have Fun.
What? How can anyone enjoy life with Trump in the White House?
Rather than give up and sit idly at home, depressed and dejected, maybe this is the time to delve into some activities that you've been putting off, or that you've always wanted to do but never got started. To use a recently popular term, you might want to look into undertaking some items on your personal "bucket list."
Always wanted to visit France? Sweden? Australia?
How about a visit to one (or more) of our national parks? To a city that's long been tempting?
Is there some product, some service, that you'd really like to indulge in, if only time and finances permitted?
Considering the potential dangers to the country, to democratic principles – if not to civilization itself – in a full-term Trump presidency, perhaps it's time to say "Yes" to today and shun prudence regarding the near future. Who knows whether there will be any future, in view of the horrors now taking place in the world – North Korean nuclear weapons, ISIS, the Syrian president – so many danger ones, with which Mr. Trump is utterly unprepared to "deal." Think about his belligerence, his immeasurable self-regard, his propensity to insult and humiliate. How long will it be before he steps into one of the monstrous world crises and, whether intentionally or inadvertently, precipitates a disaster.
Maybe this is the time to ignore the price or the difficult logistics of that cruise you always wanted to take, the world capital you always yearned to visit – perhaps even the fancy Maserati that's been rustling through your mind for years. In this age of Trump, even those of us who've led simple lives, with few temptations, might well be ready to give in and toss caution and prudence overboard, realizing that opportunities for an enjoyable life may soon be disappearing.
Thinking About Volunteering?
Just about every opponent of Trumpland seems to want to do something, large or small, to help in the resistance. Before leaping into the fray of volunteering for an anti-Trump organization, though, it's wise to evaluate not only your capabilities, but also your preferences and personal limitations.
If you have trouble talking on the phone, for instance, or knocking on doors and speaking with strangers gives you palpitations, say so to those in charge. Offer to do whatever else might be available.
An awkwardly uncomfortable, nervous volunteer isn't likely to be helpful to the overall cause. By all means, give it a try if you've not sure whether the task is within your area of competence. But if not, be realistic.
Try to sign up for what you do best. Sure, you need to be willing to do what the organization needs most – but only if you are able to make a valuable contribution in that area.


---
Go to Volume 2 of White House Woes (September onward)
Click for Trump News Highlights

Back to Tirekicking Today Home Page

Text and photos by James M. Flammang

© All contents copyright 2017 by Tirekicking Today