UPDATED: November 25, 2016
>Tirekicking Today is undergoing a major revamping, with a new focus that expands beyond cars ... please check again during Fall of 2016
Third book from TK Press is Now On Sale
... and it's Incompetent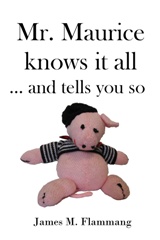 TK Press, the book-publishing division of Tirekicking Today, now has three titles on sale. The latest one is INCOMPETENT: Coming Up Short in a World of Achievement. Whether it's sports, business, personal relationships, the arts, or any other area of life, some of us score a flat zero in the skills and talents department. Please see ordering details at right.

Also On Sale:
• Mr. Maurice Knows it All ... and tells you so. Available in print or as an e-book at various retailers, including Barnes & Noble and Amazon.
In 78 concise chapters, the stuffed pig known as Mr. Maurice–who just happens to know everything–unleashes a torrent of acerbic, humorous, delightfully wise words on subjects ranging from work to movies, from money to citizenship, from status to guilt.

Note: Mr. Maurice ... has been re-launched in Summer 2016, by a different distributor and printer.

• Tirekicking Used Car Buyer's Guide covers everything from picking the best vehicle type, to the best ways to research a potential purchase, to taking an informative test drive, to details on financing, insurance, negotiation, and much more. Average valuations, test-drive reports, and specifications of selected 2007-13 models also are included. Available at Amazon as an e-book, or a 308-page printed volume.
Absurdities, our fourth title, is scheduled to go on sale early in 2017.
Absurdities: Logical Lapses in everyday life and thought is a comprehensive collection of stinging essays that gaze with disbelief at various aspects of modern life. The 86 chapters are arranged in sections, including Work, Money, Identity, Communication/Technology, Consumption, Politics and Law, Pastimes, Sex, and Transportation.
Tirekicking Today has emphasized new cars since its inception in 1993. Editor Jim Flammang also has been covering the used car market as a journalist since 1985. Last year, we launched a Used Car section, providing valuable information to both consumers and those in the used-car business.
Although we have been publishing fewer car reviews, Tirekicking Today continues to move into new directions. In addition to expanding our sections on work/labor and consumer issues, we're developing Essays and Commentaries. Subjects will reach well beyond automobiles, including politics, law, immigration, consumer concerns–and especially, the Absurdities that surround us.

---
More Books in Progress (outlines and excerpts)
Editor Jim Flammang, the author of more than two dozen books (including six for children), is at work on several more. Each title views its subject from an oblique and lighthearted–yet serious–perspective. Outlines and excerpts may be seen by clicking on each title.

• Work Hurts: Reflections on a wasted life questions the conventional wisdom on work and careers. For untold millions, including many with "good" jobs, each day's toil delivers no joy and little reward. The 34-chapter manuscript (with four sidebars) is scheduled for completion early in 2017.
• Hotel Life, subtitled "Living small in an age of large," assesses the satisfactions of simpler living and minimal consumption, while chronicling the joys (and drawbacks) of residing in low-end accommodations.
• Fraidy-Cat: Surviving a lifetime of unwarranted fear and fright. A personal look backward, focusing on lessons learned about debilitating fear and anxiety, including ways to cope and survive.

• Untied Knots - Fiction by Flammang: two groups of short stories, each with a tangy twist. One group is travel-based; the other focuses on stay-at-home folks. Scheduled for publication in late Fall of 2016.

Also under consideration for future publication: • Hybrid/Electric/Diesel Buying Guide (updating and expanding upon our prior online guide).
• Car-Buyers Guide for those who don't really care much about cars.
• Steering Toward Oblivion is a caustically critical but humorous observation of the car culture and auto business. Note: Outline will be updated to reflect current conditions.


For further information, please contact us at JF@tirekick.com.


---
O Canada, How Could You?
Humiliation and disrespect at the Immigration counter
by James M. Flammang
Looking for a trip that turns abruptly into a nightmare–right at the airport, upon arrival? Then, look no further than Canada, our alleged "neighbor" to the north.
Note: An update of this story will be posted in July 2016.
Perhaps you, too, can be subjected to a barrage of vile, hostile, intimidating queries that pry brutally and abusively into your private affairs and personal history. Rather than receive a welcoming gesture, I was humiliated, insulted, demeaned, and degraded, in disgraceful ways that I'd never even imagined in my many years as an international traveler. All in the name of "protecting" the Canadian economy from the possibility, however remote, that an arriving visitor might be thinking of toil rather than tourism. Click here for the complete essay on arriving in Canada

For additional essays by James M. Flammang, click here.
---
Please click here for our Special Report on daily life in Clichy, France, during our two-month stay early in 2012
---
Looking Backward:
Auto History: When Rationing Came
---
---
Online since 1995, Tirekicking Today has presented a fresh and distinctive approach to the automotive world, including: Preview Drives of selected coming-soon models; Test Drives of current vehicles; feature stories of interest to car buyers and owners; plus commentary with a distinct and tangy twist. Lately, however, much of the auto business somehow remains in subtle crisis mode–despite record-setting sales. Media outlets such as Tirekicking Today have been affected adversely. Automakers host fewer new-model media programs. Invitation lists to those that occur have shrunk sharply, and continue to decline. Availability of test vehicles has diminished. Growing numbers of bloggers and pseudo-journalists vie for attention alongside those, like ourselves, who have covered the auto business for many years.

As a result, Tirekicking Today isn't just about cars anymore. Rather than vehicle reviews, we expect to publish more editorials and feature stories. Turning aside from cars, Tirekicking Today also expects to expand coverage of consumer concerns, social and political trends, and work/labor issues(See Toil & Trouble in box at right).

• Drivers willing to dismiss privacy
• Young British drivers have attitude problems ... "radical" insurer claims to have the answer

• Who do car-shoppers trust for information?
• Idiots Rule: Social media shouldn't dictate product plans
• Are auto ads changing tune?
• Where are the "Detroit 3" headed now?
• Red Light Cameras can snare safe drivers
• Archive for All Editorials


---

• New automotive (and non-automotive) Editorials and Essays are being developed and will be posted soon.


---
Highlights: 2013 (November) Used Car Week
• Highlights: 2013 National Remarketing Conference
• Highlights: 2013 CPO Forum (Day One,
• Highlights: 2013 CPO Forum (Day Two)
• Highlights: 2013 Subprime Forum (Day One)
• Highlights: 2013 Subprime Forum (Day Two)
• Highlights: 2013 Re3 Conference
• Used Car Week scores record attendance

Highlights: November 2010 used car conferences
• 2010 CPO (certified pre-owned) Forum
• 2010 National Remarketing Conference

Highlights: 2009 National Remarketing Conference
Market Trends ... CPO ... Valuations ... Used Car Trends ... POADA





• Survey: Nearly half of commuters text behind the wheel
• Numbers Count in Used Car Search
• KBB Explains Consumer Surveys
Please watch for helpful new Consumer Advice.

---
Isn't it finally time to think seriously about reducing oil use - and to take action? As gasoline prices remain below $3 per gallon, interest in fuel-efficient vehicles appears to be waning.

---

Coming Soon:
• Feature story: Cars and traffic in Paris

---
The Dunning-Kruger effect: "Ignorance more frequently begets confidence than does knowledge."


Charles Darwin



---
Automotive Literature
for Sale:


Large stock of books, magazines, photos, press kits, memorabilia, and more. Mostly from 1985-2010, but some items date back as far as the 1920s. Includes collection of Automotive News magazines dating back to 1989, available for pickup from Illinois office. Please let us know what you need, via e-mail to: JF@tirekick.com.

---